NYPD Commissioner 'Confident' Hatchet Attack Was Terror
Chris Dolmetsch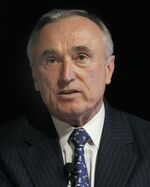 A hatchet attack on four rookie police officers in New York City was labeled an act of terrorism, although detectives found no indication that anyone other than the assailant, who was shot dead, was involved.
Police Commissioner William Bratton said during a press conference that the alleged attacker, Zale Thompson, 32, of Queens, was a "self-radicalized" recent convert to Islam, described by family members as a depressed recluse who spent much of his time on his bedroom computer. Thompson was killed by police shortly after the attack, which lasted a total of 7 seconds and seriously injured two officers.
"He was self-directed in his activities," Bratton said. "The investigation is hoping to determine as quickly as possible if there were any other actions that he was engaged in with others that might indicate a continuing threat."
The attack came just a day after a Canadian soldier was killed outside a war memorial in the country's capital of Ottawa, an attack also thought to be by one man, who police said was a radicalized follower of Islam. New York police said Thompson had been using the Internet to research terrorist groups such as al-Qaeda, ISIS and al-Shabbab, and acts of violence such as beheadings.
While Thompson had an "extensive social media presence" with "anti-Western, anti-government, in some cases anti-white" postings, every indication is that he was acting alone, said Deputy Police Commissioner John Miller.
'More Intensity'
"It appears just from the electronic forensic piece of this that this is something he had been thinking about for some time and thinking about with more intensity in recent days," Miller said.
The attack happened at about 2 p.m. on Oct. 23 at Jamaica Avenue and 162nd Street in borough of Queens when four rookie officers were on foot patrol and approached by a photographer who asked them to pose for a picture, according to a police statement.
As the officers were posing, Thompson charged at them unprovoked, striking one of them in the arm and the other in the head with a 18 1/2-inch-long metal hatchet before the other two officers opened fire, killing the attacker, according to the statement.
A 29-year-old woman who was nearby was accidentally struck by a bullet in her lower back and was taken to Jamaica Hospital, where she was recovering from surgery on Oct. 23, according to police.
Critical Condition
Officer Joseph Meeker, 25, who was struck in the arm, and the officer who was hit in the head, Kenneth Healey, 24, were taken to the same hospital, where Healey was listed in critical but stable condition yesterday, police said. Meeker was treated and released.
Thompson wasn't married, had no children and no recent employment, Bratton said. He wasn't on any terrorist watch lists at the time of the incident, police said.
The assailant was arrested six times in 2003 and 2004 in Oxnard, California, and hadn't been arrested in New York City, said Chief of Detectives Robert Boyce. His only contact with the NYPD was in 1998 when he was the victim of an assault when he was 16, Boyce said. Thompson got an involuntary discharge from the military in 2003, possibly because of involvement with drugs, Boyce said.
Police searched both his residence and his mother's home in Queens and are going through a "significant amount" of evidence including cell phones and laptop computers, Boyce said. His father told detectives that Thompson had converted to Islam about two years ago, spent extensive time in his bedroom on the computer and "by all accounts, was a true proverbial loner," Bratton said.
'Mass Marketing'
Terrorist groups that in the past had tried to directly recruit attackers are now using "mass marketing," with sophisticated messaging, videos and other forms of outreach "on the assumption that if just a few buy into that narrative and act out independently, that will be enough," Miller said.
The incident happened while Miller was giving a presentation in Orlando, Florida, on self-radicalization and terrorist groups who use the Internet and social media to encourage individuals to conduct their own attacks, Bratton said.
"This issue of the self-radicalized, the lone wolf if you will, has grown to be one of increasing concern," Bratton said.
War Memorial
In Canada, Michael Zehaf-Bibeau spent his final night praying to Allah in a homeless shelter before allegedly shooting a soldier at a war memorial and storming the nation's legislature.
Zehaf-Bibeau, 32, was identified for the first time by police on Oct. 23 as the killer of Corporal Nathan Cirillo. The assailant, who appeared to have acted alone, came to Ottawa seeking a passport and may have wanted to travel to Syria, police said.
While he didn't appear on a watch list of about 90 high-risk people, police said they found evidence that suggests he was communicating with other extremists.
"We do have now information that suggests an association with some individuals who shared his radical views," Royal Canadian Mounted Police Commissioner Bob Paulson said.
The son of a prominent Canadian public servant and a Libyan father, Zehaf-Bibeau went to a Montreal private school before descending into a string of crimes. He converted to Islam, became radicalized, though the motivation behind the shooting remains unclear, police said.
Before it's here, it's on the Bloomberg Terminal.
LEARN MORE