Need for Speed on Internet Emerges as Comcast Deal Test
Todd Shields and David McLaughlin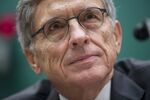 The question of what counts as high-speed Internet service is emerging as a sticking point in Comcast Corp.'s bid to buy Time Warner Cable Inc.
A top federal regulator has proposed a definition that would leave the company with as many as half of U.S. broadband customers -- too much for some critics. Comcast wants to include homes with older, slower service, leaving its market share at little more than a third.
The argument matters because opponents say the $45.2 billion merger would result in a company with so large a market share it could squelch competition.
Under the faster standard, "the cable guys have a stone-cold monopoly," said Mark Cooper, director of research for the Consumer Federation of America, a Washington-based nonprofit that opposes the deal. "The merger becomes intolerable if you understand that."
The merger would combine the nation's biggest and second biggest cable providers and the Federal Communications Commission is reviewing whether it is in the public interest. Rivals such as Dish Network Corp. and Netflix Inc., and some consumer groups, say the transaction would leave Comcast with too much power in the broadband market.
The Justice Department is reviewing the deal's impact on competition, probing Comcast's ability to gain leverage in negotiating program deals and to slow or block Internet traffic, people familiar with U.S. requests said last month.
Chairman Wheeler
FCC Chairman Tom Wheeler in speeches beginning last month has called for raising the bar for broadband to 25 megabits per second from the current level of 4 megabits per second -- a rate he said isn't adequate for downloading a high-definition video. In August the agency asked for public comments about increasing the standard.
Comcast says the proper yardstick for broadband Internet includes slower speeds, under which its share of the online market would be 35.5 percent. There's no cause for competitive concerns, the company said in FCC filings.
The FCC paused its review on Oct. 22 to decide which lawyers and consultants probing the transaction may view confidential programming contracts between Comcast and companies including 21st Century Fox Inc. and the Walt Disney Co.
Comcast's share of the homes receiving service above Wheeler's benchmark would increase less than one percent because Time Warner Cable has so few high-speed customers, said Sena Fitzmaurice, a Washington-based spokeswoman for Comcast. The transaction will cause "essentially no" adverse impact on the market for broadband, Fitzmaurice said.
Antitrust Regulation
Comcast's potential market share under Wheeler's revised broadband definition would flirt with a boundary line that may cause more scrutiny by antitrust regulators, said Diana Moss, vice president and economist at the American Antitrust Institute, a Washington-based group that opposes the deal.
"Once you get above 50 percent you're really talking about a firm that has a majority of the market and would have the incentive to act like a dominant firm" and repress competition, Moss said.
Although monopolies aren't illegal in the U.S., the Justice Department could block the merger or require conditions if it finds the deal is likely to lessen competition. While the Justice Department is reviewing the antitrust impact of the deal, the FCC is looking at how it will affect the public interest.
Neil Grace, an FCC spokesman, decline to comment. Emily Pierce, a Justice Department spokeswoman, didn't respond to a request for comment.
'Faulty Assumptions'
Comcast says claims of harm to broadband competition from a market share of 50 percent or more are "incorrect and based on faulty assumptions or wrong facts," according to the company's Aug. 22 FCC filing.
Investors are increasingly are uncertain about the merger's prospects, and "that concern is directionally correct," Paul Gallant, Washington-based managing director for Guggenheim Securities, said in an Oct. 20 note.
"We continue to give the edge to merger approval" in part because the FCC may want to use the deal to impose conditions, such as open-Internet requirements to treat Web traffic fairly, Gallant wrote.
Wheeler summoned telecommunications lobbyists to a September speech in downtown Washington where he dismissed telephone company Internet services over old copper wires -- the so-called DSL technology -- as too slow. He also said wireless broadband with limits on data consumption can't replace wired service.
Three-fourths of American homes have no choice in providers of service at 25 megabits per second, Wheeler said.
Telephone Lines
"Chairman Wheeler is right" to insist on faster speeds, said David Schaeffer, chief executive of Cogent Communications Holdings Inc., which sells fast Internet service to businesses and has been opposed to the Comcast deal. "This is one more issue Comcast has to overcome."
Comcast said in an FCC filing "it makes no sense" to omit Internet service provided over telephone lines, which is slower, from consideration as broadband, since customers use the service for Web access including Netflix videos.
Comcast, of Philadelphia, and New York-based Time Warner Cable don't compete for subscribers.
Applying the higher speed to the merger review may be unfair because the idea hasn't been processed through normal channels, said Lawrence Spiwak, president of the Phoenix Center, a Washington-based group that says it provides independent assessments of regulatory policy.
"You just can't say, this is my standard, and then hold somebody to a standard that is nothing more than your speeches," Spiwak said.
Before it's here, it's on the Bloomberg Terminal.
LEARN MORE