Kathryn Ruemmler, Ex-Obama Counsel, Withdraws From Justice Consideration
She had been President Barack Obama's preferred candidate to succeed Attorney General Eric Holder.
By and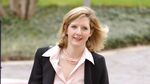 Former White House Counsel Kathryn Ruemmler took herself out of the running to become the next U.S. attorney general, paving the way for a nominee who might be easier to get through the Senate confirmation process.
Ruemmler had been President Barack Obama's preferred candidate to succeed Attorney General Eric Holder, who has said he will leave the job when a replacement is confirmed.
Obama had asked Ruemmler whether she would consider the job if offered, according to a White House official. She spoke with Obama on Oct. 22 and said that, while she was flattered, she didn't want to be nominated, another person familiar with the decision said. The official and the people familiar asked for anonymity because the discussions weren't public.
The White House has said previously that Obama won't name a nominee until after the Nov. 4 congressional elections.
Had she been nominated, Ruemmler would have faced tough questioning in Senate confirmation hearings stemming from her role as the president's top lawyer. 
Senate Republicans have signaled they want to know more about her advice to Obama on issues including the deadly attack on a U.S. facility in Benghazi, Libya, IRS scrutiny of conservative political groups, and the scandal over the performance of the Secret Service.
Her withdrawal may be a concession that another nominee may be more easily confirmed by the Senate. 
Trusted Adviser 
"Kathy is someone who always tells it like it is, is a world-class lawyer and remains a trusted adviser to the president," White House Chief of Staff Denis McDonough said in a statement. "Anyone who knows Kathy knows she has impeccable she is also as selfless as they come and the president is proud to call her a close friend." 
Ruemmler became White House counsel in 2011 after serving as principal deputy in the office. She rejoined law firm Latham & Watkins LLP as a partner in the litigation department after leaving the White House in May.
U.S. Solicitor General Don Verrilli is among the potential candidates to replace Holder. Labor Secretary Tom Perez and Loretta Lynch, a federal prosecutor from New York also are said to be under consideration.
Perez, speaking at the National Press Club on Oct. 20, declined to answer questions about a possible nomination as attorney general.
"My singular focus is on the job of being at the Department of Labor," he said.
Administration officials haven't given more specifics on when Obama plans to nominate a Holder replacement. If Democrats lose their Senate majority in the Nov. 4 elections that may create an incentive to act fast to try to get a nominee confirmed during the lame-duck congressional session this year.