What's Ahead for China's Economy? Nobody Seems to Agree
By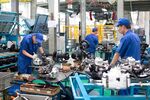 What comes next for China's economy? Clearly, the jury is still out. On Tuesday, China's National Bureau of Statistics announced that third-quarter gross domestic product growth was 7.3 percent; that was the slowest in five years, or the worst performance since early 2009 during the global financial crisis.
Then today, there was a glint of good news, with a manufacturing measure above expectations. The HSBC Flash China Manufacturing Purchasing Managers' Index—"flash" because it's a preliminary reading, with the final number to be released on Nov. 3—came in at 50.4 (above 50 indicates expansion), compared with 50.2 the month before, and a three-month high.
Although the index showed improvement in employment and inventory levels, "domestic as well as external demand showed some signs of slowing," cautioned Qu Hongbin, chief economist for China at HSBC, in a statement released today. "While the manufacturing sector likely stabilized in October, the economy continues to show signs of insufficient effective demand," he wrote.
Many say we've seen the beginning of a long-term slowdown. China's economic rebalancing, which requires ending an excessive reliance on capital investment and moving to a more consumption-driven economy, will inevitably lead to lower growth, they say.
Add in a slowdown in labor productivity and a shrinking labor force, plus the huge challenge in carrying out the reforms necessary to counter those, and China's growth is set for "a long, soft fall," says a new report by the Conference Board. Authors David Hoffman and Andrew Polk predict that GDP will drop below 4 percent in the next decade, as my colleague reported for Bloomberg Businessweek yesterday.
The slowing trend is nothing new, argues Wu Jiangang, a research fellow at the China Europe International Business School, in the China Daily today. He notes that growth averaged 11.7 percent from 2003 to 2007, 9 percent from 2008 through 2012, and just 7.7 percent last year. "The drop in growth rate is no surprise," he writes. "China has moved past the transformation of economic growth and entered a new stage. A 'new norm' of economic growth appears that emphasizes quality rather than quantity."
Meanwhile, a separate study by the Asia Society Policy Institute and the Rhodium Group published yesterday is more optimistic. It argues that there's already been significant progress on sweeping economic reforms pledged by China's leaders at last year's Third Plenum.
Continued implementation, plus "more efficient and productive use of China's finite pool of human resources and capital—what economists refer to as total factor productivity," will help support China's growth for years to come, writes author Daniel Rosen, founding partner at Rhodium and an adjunct professor at Columbia University's School of International and Public Affairs. He argues that China's potential growth rate in 2020 will instead be 6 percent.
The level of growth the economy reaches in the years ahead doesn't lessen the pain of today's slowdown, of course. Take Unilever, one of the world's largest consumer-goods companies, maker of Dove deodorant, Ben & Jerry's ice cream, and Lipton's tea. Its sales in China fell by about 20 percent in the first three quarters of the year because of the impact of the "sharp market slowdown," Chief Executive Officer Paul Polman said in a statement released today.
Before it's here, it's on the Bloomberg Terminal.
LEARN MORE