Vancouver Candidate Wants to Put the Public Back in Public Transit
A Vancouver mayoral candidate wants to charge a tax, not fares
By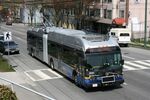 In Vancouver, a mental-health worker named Meena Wong is staking her long-shot mayoral campaign on policies designed to lower the cost of living, such as taxing vacant luxury condos to subsidize affordable housing. Recently, she proposed scrapping tickets on the city's public transit in favor of charging all adult residents a dollar a day. "Residents will save $140 a month," says Wong, who is running under the banner of the Coalition of Progressive Electors, or COPE. "That's a lot!"
Over the course of a year, those savings would add up to C$1,680, or about $1,500. Today fewer than a quarter of Vancouver residents buy transit passes, which cost as much as C$170 a month. COPE estimates that if all 450,000 working-age Vancouverites paid up, the metro transit authority, TransLink, would make about C$160 million annually, about C$10 million more than it collected last year. (TransLink declined to comment, citing the Nov. 15 election.) COPE says residents who don't want a "V-Pass" can opt out of paying the annual fee.
In 2011 only 23 percent of trips originating in Vancouver were made on public transit, according to a city report. Wong's party insists dollar-a-day transit will change those habits. "People who have a transit pass in their hands tend to use it," says Sarah Beuhler, COPE's executive director and co-chair of Wong's campaign.
Wong's plan would put Vancouver in the ranks of cities that have sought to expand transit ridership by reducing or eliminating fees. In the runup to the Sochi Olympics last winter, Moscow's subway system suspended fares for anyone who performed 30 squats in front of machines equipped with special motion sensors. Estonia's capital, Tallinn, introduced free transit last year as an incentive for people to register as city taxpayers. The increase in municipal revenue almost offset the loss in fare income.
Other municipal governments charge businesses, not riders, for the cost of providing transit. The central French town of Châteauroux ditched fares in 2001 and made up some of the lost revenue with a tax increase on large companies. Ridership there more than doubled. Hong Kong's Mass Transit Railway has developed malls inside its stations, which generate revenue for the agency.
No one has tried the proposed Vancouver model. "I've never heard of this kind of idea," says Charles Komanoff, a New York-based transportation economist. "It's a different way to think about paying for transit and attracting riders because the incremental cost to hop on a trolley or light rail or bus is zero." Giving people a taste of mass transit seems to have lasting effects, too: In a 2012 study, 30 percent of Massachusetts Institute of Technology employees who were offered free transit passes for a week gave up their parking permits after the trial ended.
Wong says she thinks it won't be long before cities throughout the world are clamoring to adopt their own versions of the V-Pass: "Citizens will rise up and say, 'We want that, too,' " she says.
BOTTOM LINE -
The bottom line: Cities that reduce or scrap fares for public transportation often see higher ridership.
Before it's here, it's on the Bloomberg Terminal.
LEARN MORE