The Military Takes on Climate Change Deniers
The Pentagon commits to planning for higher temperatures, and retired generals line up to help
Mark Hertsgaard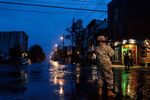 The idea that climate change poses serious risks to U.S. national security, long contested in conservative circles, is now an integral part of Pentagon planning. On Oct. 13, Secretary of Defense Chuck Hagel made it official with the release of the Pentagon's 2014 Climate Change Adaptation Roadmap, a 16-page document that lays out the effects of extreme weather events and rising temperatures on military training, operations, acquisitions, and infrastructure. Two previous editions, issued in 2012 and 2013, treated climate change as a future threat, but this year's cast it as a reality that must be dealt with quickly. "Climate change will affect the Department of Defense's ability to defend the Nation and poses immediate risks," the document begins.
The Pentagon's move sets up a showdown between the military, a cautious institution run by some of the most conservative people in the U.S. government, and congressional Republicans, who continue to deny that climate change is real, let alone that it requires action. In May, House Republicans passed an amendment to the annual National Defense Authorization Act forbidding the Defense Department from spending money on any climate-related initiatives, including planning programs. "This amendment will ensure we maximize our military might without diverting funds for a politically motivated agenda," Representative David McKinley of West Virginia, who sponsored the amendment, wrote in a letter to members of Congress asking for a yes vote. The amendment failed in the Democratic-controlled Senate.
Hagel, a former Republican senator from Nebraska, moved to counter that argument in his foreword to the new road map. "Politics or ideology must not get in the way of sound planning," he wrote. Hagel is backed by 16 retired generals and admirals who sit on the military advisory board of the CNA Corp., a government-funded nonprofit military research organization. A CNA report issued in May called climate change a "catalyst for conflict," arguing that the civil war in Syria was rooted in part in a record drought that drove peasants off the land and into cities, where they were susceptible to being recruited by extremist groups. "People are going to have less water, less food," says Ron Keys, a retired four-star general who commanded all Air Force aircraft and personnel worldwide and now serves on CNA's military advisory board. "There are going to be huge regional wars around those issues."
Pentagon planners have sounded alarms about their climate concerns for at least a decade. In 2004, Fortune reported the existence of a secret document that warned climate change could push powers such as China, India, and Pakistan into nuclear war over fresh water supplies. Until now the military has been relatively quiet about its climate concerns, partly "because the Department of Defense gets its money from Congress, and we know where the House is on this issue," says David Titley, a retired rear admiral and member of CNA's military advisory board. Hagel's personal involvement in releasing the 2014 road map suggests the Pentagon has decided it can't wait any longer.

Not all Republicans are as wedded to climate-change denial as their public statements suggest, according to retired military officials and Republican Hill staff. "If you talk with them privately, without any media around, the vast majority of congressional Republicans know perfectly well that climate change is real," Titley says. "But they won't say so publicly because they don't want to end up like Bob Inglis."
Inglis, a Republican, represented South Carolina's 4th congressional district for six terms, amassing a perfect voting record in the eyes of the National Rifle Association and other conservative groups. In 2010, a Tea Party challenger ousted him after seizing on what Inglis has half-jokingly referred to in the press as his "heresy": insisting that climate change is real. He's now executive director of the Energy and Enterprise Initiative, a nonprofit based at George Mason University that advocates a free-market approach to addressing climate change. "A lot of people on Capitol Hill are down in their foxholes" on the climate issue, Inglis says. "They're afraid of getting their heads blown off if they head up the hill."
To provide political cover, Keys, Titley, and other retired military brass have been traveling the country to explain to ordinary Americans why the military cares about climate change and what extreme weather will mean for their communities. The goal is to shift the political conversation in Washington by changing what voters are willing to hear their leaders say. Since August, Keys has visited Iowa, Pennsylvania, Ohio, New Hampshire, and North Carolina to take his message to local Rotary Clubs and businesses, such as a solar electrical co-op run out of a hog house in Dubuque, Iowa. Keys, who says he is "politically very conservative, just to the right of Genghis Khan," meets with state legislators, mayors, business leaders, civic groups, and "mom and pop on Main Street." His pitch is simple: Ignoring climate change means leaving Americans exposed to danger. "If I were a bad guy," Keys says, "I'd look at a moment like Hurricane Katrina as a good time to sneak into the U.S. and try something."
Oklahoma Republican Senator James Inhofe, a leading denier of climate change, has dismissed CNA's effort. "There is no one more in pursuit of publicity than a retired military officer," Inhofe told the New York Times after CNA issued its report in May. Keys says he won't be deterred. "I spent 40 years as a fighter pilot," he says. "You're going to have to come at me with facts."
BOTTOM LINE -
The bottom line: A group of retired military officers is trying to give Republicans cover to start taking climate change seriously.
Before it's here, it's on the Bloomberg Terminal.
LEARN MORE