The Man Who Out-Koched the Kochs
The story of one of the most powerful men in Republican politics that nobody is talking about.
Annie Linskey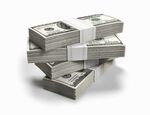 Hedge fund operator Robert Mercer almost never talks about himself, and neither do the people who know him. Yet Mercer's money is sure making a lot of noise on the campaign trail.
The third most generous Republican donor this cycle, Mercer has cut checks for a total of $37 million in the past six years, supporting pro-life candidates, those who deny man-made global warming, as well as helping fund the effort to block construction of a mosque near the site of the September 11 attacks in New York. In fact, this year he gave more to the Koch brothers' organization, $2.5 million, than the Kansas founders, David and Charles, who each chipped in just $2 million to Freedom Partners Action Fund.

Yet the man who first made his mark by upending the field of computer linguistics and is now seeking to bend the national political debate in his conservative direction, is a stranger to the electorate he seeks to sway and the public that would be affected should he succeed. He is the ultimate behind-the-scenes kingmaker in the fight for control of the U.S. Senate who almost never talks—publicly or otherwise. An address to computer scientists at an awards ceremony in Baltimore this summer was a rare exception, and he admitted to finding it daunting. 
It was only after he agreed to accept a lifetime achievement award that it dawned on him that he'd have to address attendees for about an hour. "Which, by the way, is more than I typically talk in a month," he said.  About 10 minutes into the lecture, he paused, and took a sip of water. "I've just reached one week of speaking," he said, "so I have to take a little drink."
Asked to share their impressions about Mercer, people who have met him at conservative gatherings said they could recall little about about the man behind the checkbook. "I've only talked to him one time," said James Bopp, a normally outspoken campaign finance attorney who runs the USA Super PAC, a boutique political group backing Republican Pete Ricketts' gubernatorial bid in Nebraska. Bopp's super-PAC has just seven donors, including Mercer. Senator Rob Portman, the National Republican Senatorial Committee's finance chair and a potential 2016 Republican presidential candidate simply said, "I don't have any insights" about the man who is one of two people who've donated to the Portman Victory Committee.  The other contributor is Mercer's wife of more than 40 years, Diana.  "The conversation I had with him was about the direction of the country. His focus with me was on the economic issues and the fiscal issues," Portman said. 
Mercer declined to comment for this story via his a spokesman, Jonathan Gasthalter. Mercer's daughter Rebekah, who runs the $37.6 million Mercer Family Foundation and sits on the board of at least one conservative non-profit that the family funds, didn't respond to messages seeking comment. Along with her two sisters Jenji and Heather Sue, she operates a pastry store in mid-town Manhattan. (The business, unlike the vast majority of Mercer's projects, has bipartisan support. The shop's website includes rave reviews from former Presidents Bill Clinton and George W. Bush.) Rebekah Mercer is also a budding political donor, and among the recipients of her largess is Senator Ted Cruz, the Texas Republican. 
In addition to a broader desire to shape national policy, Mercer has business interests in the midterms. His company, Renaissance Technologies, which runs the Medallion fund and has produced 35 percent returns annualized over two decades, was hauled before the Senate Permanent Subcommittee on Investigations in July and quizzed over how the firm calculates its taxes. According to the committee, RenTech has used sophisticated financial maneuvers to lower the amount it's investors paid to the Internal Revenue Service by $6 billion over 14 years. 
"It meant enormous profit for both the banks and the hedge funds," said Senator Carl Levin of Michigan, a Democrat who chairs the panel. "Ordinary Americans had to shoulder a tax burden of billions of dollars, a burden that was shrugged off by those hedge funds." 
Gasthalter, also a spokesman for RenTech, said in a statement at the time that the IRS has been reviewing the hedge funds transactions for the past six years. "We believe that the tax treatment for the option transactions being reviewed by the [Senate committee] is appropriate under current law," he said. 
With RenTech's outsized profits, Mercer is earning more than enough to fund political campaigns, and so far this cycle, he's contributed $8.8 million. 
The beneficiaries of that money have been, across the board, Republicans—House candidates, Senate candidates, institutional super-PACs that give to lots of candidates and smaller super-PACs focused on individual candidates and conservative non-profits. Mercer has dipped into state races, including Ken Cuccinelli's 2013 gubernatorial contest in Virginia to which he gave a $600,000 contribution to an outside group. Cuccinelli recalled asking Mercer for support just after Mitt Romney had lost his 2012 presidential bid, when Republican money people were in what he referred to as deep donor depression. "He's very solid and understated," said Cuccinelli, who met with him on a fundraising trip to New York. "You wouldn't know you were talking to someone with that kind of force."  Pet causes such as gun rights and charter schools don't seem to be the primary motivator for Mercer, unlike some donors, Cuccinelli said. "He just thinks our country is off track and he's in a position to do something to get it back on track," he said.
Only once during Mercer's talk in Baltimore did his conservative politics show. He recounted how he worked at a military base during college and he'd re-written an unwieldy computer program to make it faster. The bosses, to his surprise, added more to the program, slowing the computer back down.  "The point of government-funded research was not to get answers but to consume the computer budget," he quipped to the crowd. "Which has left me with a jaundiced view of government research."
Mercer was born in July 1946 and grew up in New Mexico. He was obsessed with computers—writing code in high school even though he didn't have a machine to run it on. In graduate school he studied computer science. "I loved the solitude of the computer lab late at night," he said, during a 2013 talk to computer scientists. "I loved the air conditioned smell of the place. I loved the sound of the disks whirring and the printers clacking."
Later, he joined IBM and worked at the Thomas J. Watson Research Center, focusing on the then-vexing problem of programming computers to recognize speech. He and his IBM colleague Peter Brown both joined RenTech in 1993, where the two men are now co-CEOs. The company's founder, James Simons, is the 54th richest man in the world, according to the Bloomberg Billionaires Index. He's also a hefty political donor—to Democrats. In March he wrote a $2 million check to the Senate Majority PAC, dedicated to keeping Democrats in power in the Senate.  
The company was profiled in one chapter of Sebastian Mallaby's book "More Money Than God,"  which details the world's most successful hedge funds. In it, Mallaby shared only a few observations about Mercer. "He was an icy cold poker player; he never recalled having a nightmare; his IBM boss jokingly called him an automaton." Mallaby wrote. Last year, Mercer's household staff sued him, claiming their wages were improperly docked for failing to replacing shampoo bottles, closing doors improperly and not straightening pictures. 
Despite Mercer's material success, he political record is mixed. In 2010, he poured money into an Oregon House race to support a man—Republican Arthur Robinson, who was challenging incumbent Representative Peter DeFazio—who's skeptical work on climate change Mercer had funded. DeFazio's campaign put Mercer front and center that year, running radio ads saying Robinson was funded by a secretive donor with Wall Street ties.
"Oregon isn't a state that likes outside interference," DeFazio said. "Once we focused on who Mercer was we began to move our poll numbers."  DeFazio won. This year, Robinson is running again to oust DeFazio, but Mercer hasn't dropped mega-dollars into the race. Robinson declined comment for this story.