Samsung's China Problems Come to India
Cheaper smartphones eat away at the South Korean company's lead
by and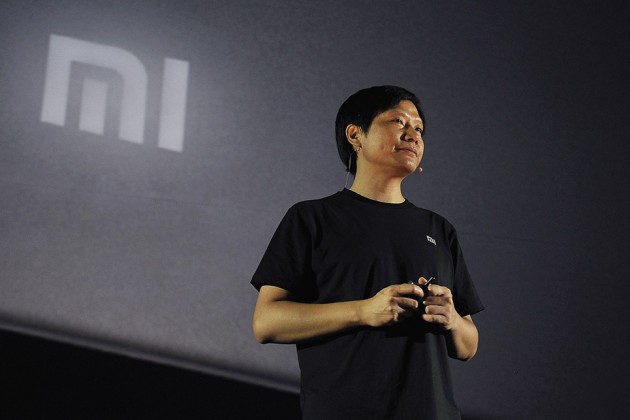 And you thought iPhones were popular. At 2 p.m. on Oct. 14, Xiaomi put 100,000 of its Redmi 1S smartphones up for sale in India, using local e-commerce site Flipkart to sell them, unsubsidized, for 5,999 rupees ($98) apiece. Within four seconds the phones sold out. Such Flipkart flash sales have become weekly events since China's Xiaomi entered India in July. "It's the most important market for us after China," says Hugo Barra, the Google alumnus now in charge of Xiaomi's international expansion. Indians "are without a doubt the most demanding users that we have encountered."
Consumers in India bought 44 million smartphones last year, close to 200 percent more than they did the year before. Four-year-old Xiaomi, which sells the most popular smartphones in China, has made 2014's splashiest entrance into India's phone market. Other companies have also sought to gain market share, especially in the peak holiday shopping season leading up to the nationwide Diwali festival on Oct. 23. Huawei began selling its Honor Holly smartphone on Flipkart for $115 on Oct. 16. Motorola, which Lenovo has agreed to buy from Google, had 5 percent of the market in the second quarter, up from almost nothing a year ago, thanks to sales of its Moto G ($164 on Flipkart). Models from Chinese phone makers Gionee and Oppo start at $86 and $130, respectively.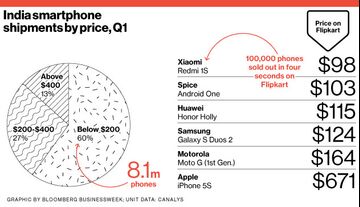 These are fresh problems for India's longtime smartphone leader, Samsung. The South Korean company recently lost its No. 1 position in China to Xiaomi. Samsung finished 2013 with 34 percent of the Indian smartphone market, well ahead of local brands Micromax and Karbonn, according to market-research group IDC. Six months later, Samsung's share was down to 29 percent as cheaper Chinese brands and other manufacturers chipped away at its lead. The low-cost Chinese phones selling out on Flipkart aren't top of the line, but they're better than the prices suggest: 3G-capable, solid processor, decent camera, and barely adequate but expandable memory. (A Redmi 1S starts with 8 gigabytes of storage, but cheap SD cards can bring its total to 64 GB.) "It's the invasion of good-enough devices," says IDC analyst Bryan Ma.
On Oct. 7, Samsung announced its quarterly global sales had dropped about 20 percent, and operating profit plunged 60 percent to 4.1 trillion won ($3.9 billion). That's due in large part to other phone makers undercutting the South Korean company in China and India—an indication that an era of Samsung's ascendance is waning, says Yoo Eui Hyung, an analyst in Seoul with Dongbu Securities. "We can no longer expect significant growth from the [smartphone] business," he says.
The longtime leader says it's not worried about falling market share. "We continue to hold the volume and value-share leadership," says Asim Warsi, Samsung India's vice president for mobile and IT. "Samsung rules the mobile handset market." Ma says the company's best chance is to eliminate the slight premium it charges in India and try to match its new rivals on price. If Samsung "really wanted to duke it out, they could," says Ma.
Another option may come from Google, which this year has exacerbated Samsung's India troubles. Google chose India as the first market for cheap Android One smartphones that can spread its footprint, working initially with local brands Micromax, Karbonn, and Spice. (All three models sell for about $100.) The next Android One smartphones in India will include models from China's Lenovo and Taiwan's Acer and Asus, says Caesar Sengupta, who heads Android One development at Google. What about Samsung? "We have talked about Android One with them, but they have yet to join the program," Sengupta says. If Samsung leadership is interested, "They will be most welcome to join."
Before it's here, it's on the Bloomberg Terminal.
LEARN MORE