Laundry Detergent Makers Want More Suds
Water-saving washing machines are dragging down soap sales
By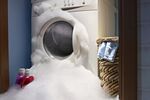 When Stephen Asbel shopped for a new washing machine five years ago, water was a big consideration. A lawyer in Media, Pa., he'd heard that high-efficiency washers use significantly less water than traditional machines. "That was the main reason I wanted one," he says. After buying a General Electric, he discovered an added bonus: It also uses a lot less detergent.
For Procter & Gamble, manufacturer of Tide and Gain, and other detergent makers, the new machines have contributed to five years of declining detergent sales. Detergents account for 13 percent of P&G's U.S. sales, down 2 percent year to date, says Javier Escalante, an analyst at Consumer Edge Research. Extra soap isn't a problem for traditional washing machines; they use enough water to eliminate soapy residue. But in high-efficiency washers, in which laundry rotates in a drum and is sprayed with water and not continually submerged, more detergent means sudsier clothes. Efficient machines use as little as one-third of the water of older models.

Total U.S. detergent sales fell 6.4 percent from 2009 to 2013 and will slip an additional 5.9 percent through 2018, says John Owen, an analyst at market researcher Mintel Group. High-efficiency washers are not the only factor contributing to those declines. P&G and other makers have cut prices as consumers look to cheaper brands, such as Arm & Hammer and Oxi Clean from Church & Dwight, the second-largest detergent maker in the U.S. Companies also must contend with a rise in the use of large-capacity machines, which translates into fewer loads. P&G and Church & Dwight declined to comment.
High-efficiency machines started becoming popular in the U.S. about a decade ago, says Jill Notini, a spokeswoman for the Association of Home Appliance Manufacturers. As of last year, 44 percent of U.S. households had high-efficiency models (Whirlpool, Samsung Electronics, and GE are leading makers) and that number is growing 2 percent a year, Escalante says. P&G accounts for 60 percent of the U.S. detergent market, followed by Church & Dwight at 14 percent. Other big detergent makers include Sun Products, which sells All and Surf, and Henkel, maker of Purex.
"The level of promotions are higher than have been seen for a considerable amount of time," says Kathryn Corbally, a spokeswoman for Wilton (Conn.)-based Sun. Target recently hyped its "lowest price ever" for a $10 bottle of Tide that's good for 64 washes—17 percent below the regular retail price. P&G added a lower-priced product, Tide Simply Clean & Fresh, earlier this year. A 40-ounce bottle, good for 25 loads, costs 24 percent less than a same-size bottle of Tide Original.
Asbel keeps testing the limits of how little detergent he can use. After pouring in less than the amount suggested by a fill line on the cap, there were still some suds in the washer's trap. "Now I am reducing the detergent amount to less than line 1," he says. "Procter & Gamble will not be pleased."