Dollar Rally Into October Upends Earnings From 3M to IBM
Matt Townsend and Andrea Wong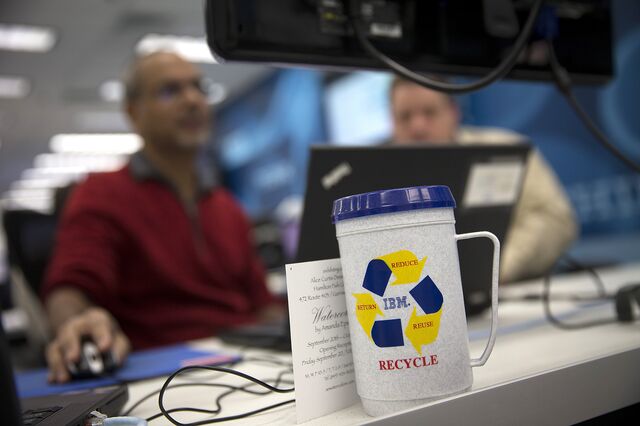 The dollar's 12-week winning streak leading into October hurt third-quarter earnings and disrupted forecasts for some U.S. companies with big overseas operations.
Amazon.com Inc., Apple Inc., International Business Machines Corp. and McDonald's Corp. all alluded to the effect of currency exchanges on their earnings and outlooks. Ford Motor Co. said the dollar's ascent to a four-year high cost the carmaker $166 million pretax, while Procter & Gamble Co. said "significant negative" effects of currency fluctuations will hurt net sales this quarter.
The U.S. dollar has been in demand as a haven from signs of a slowdown in the world economy -- and the effects on earnings may just be starting. IBM cut its profit forecast for this year, saying that a hedging strategy that had protected it from the dollar rally in the third quarter won't hold out for long.
"Ninety days ago, we expected that currency would be a modest help to our revenue growth, but in September we saw a sharp move," Martin Schroeter, IBM's chief financial officer, said Oct. 20 on a conference call with analysts to discuss third-quarter results. "What is unusual about this is not just the sharp move, but the movements were nearly all in an unfavorable direction for our business."
The dollar had been forecast to strengthen this year because an improving U.S. economy would push the Federal Reserve to raise interest rates sooner than peers in Europe and Japan. Higher rates would then boost the return on dollar-based investments and assets, thus increasing demand for dollars.
12-Week Rally
What happened in the third quarter turned out to be much more than that. The U.S. Dollar Index, which tracks the currency against its global peers, rallied for 12 straight weeks through the beginning of this month. The gauge surged 8.1 percent from July 11 to Oct. 3, when it reached the highest level since 2010.
"With the strong dollar -- you've seen that from some other reports from other companies this quarter -- we had adverse exchange effects," Bob Shanks, chief financial officer of Dearborn, Michigan-based Ford, told reporters today. "It was $166 million of balance-sheet effects. You generally can't price for that or recover from those kinds of exchange effects in the market. Most of that was in South America."
Yesterday, 3M Co. said last quarter's earnings, while ahead of analysts' estimates, were reduced by 2 cents a share because of the dollar's strength. The St. Paul, Minnesota-based industrial giant also narrowed its full-year profit forecast. Oak Brook, Illinois-based McDonald's said this quarter's earnings will be lower by as much as 6 cents a share because of the U.S. currency.
Amazon, IBM
Online retailer Amazon reduced its sales-growth projections by 250 basis points, Chief Financial Officer Thomas Szkutak said yesterday.
The surge in the dollar had little impact on IBM's results in the third quarter itself because of currency hedging in place to offset it, the computer-service provider said. That protection, however, won't last as it expects "significant impact" this quarter and into next year.
IBM's fate may be replicated by many more companies because as much as 40 percent of revenues generated by firms in the Standard & Poor's 500 Index come from abroad, according to David Kelly, the New York-based chief global strategist at JPMorgan Funds. A 10 percent rise in the dollar usually results in a 3 percentage point fall in earnings, he said.
Also much like IBM, the drag on results from the strong dollar will be larger in the fourth quarter, Kelly said. That's because more than half of the dollar's spike came in September, near the end of the third quarter. This quarter, however, began with the dollar at the highest level in four years.
Apple 'Headwind'
Apple Inc., which generates more than half its revenue overseas, also said it expects the effect of the strong dollar will be greater in the current quarter. The maker of the iPhone on Oct. 20 incorporated that into its forecast for sales and gross margin, which both topped analysts' estimates.
"It's a fact of life, if the U.S. dollar strengthens, that creates a headwind for us both in revenue and margins for our business outside of the U.S.," Apple Chief Financial Officer Luca Maestri said on a conference call with analysts.
Companies in Europe also are finding it difficult to adjust to the swings in currency rates. Royal Philips NV, the world's biggest lighting company, this week reported quarterly earnings that missed analyst estimates, saying that foreign exchange hurt revenue by 1.7 percent and operating earnings by 0.9 percentage points of sales.
Daimler Impact
Based on a level of $1.30 to the euro, a movement of about 5 cents in either direction would translate into "a couple hundred million" euros of impact on German carmaker Daimler AG next year, Chief Financial Officer Bodo Uebber told analysts in a conference call. That estimate assumes the company's current hedging strategy would remain the same, he said.
"We're doing hedges from now on until February," Uebber said. "We might see some volatilities again in the emerging markets. This is of course a question mark. And we don't know where we are in February with the U.S. dollar."
Part of the currency's strength stems from its role as a haven in times of global turmoil. Besides signs of slowdown, investors are also seeking safety amid news of the spread of Ebola, the conflict in Ukraine and street protests in Hong Kong.
The gains in the dollar are predicted to continue. Median forecasts in Bloomberg surveys show the dollar rising another 6 percent versus the yen and 4 percent against the euro through the end of 2015.
Dollar strength is also causing concern among U.S. policy makers. A fast-rising currency may stymie efforts to spur growth and boost inflation, Federal Reserve Bank of New York President William C. Dudley said last month.
An unexpected 10 percent advance may cut gross domestic product by 0.5 percentage point, according to Morgan Stanley. JPMorgan Chase & Co. estimated at the end of September that the 4 percent appreciation in the trade-weighted dollar during the previous two months would reduce growth by 0.3 to 0.4 percentage point in the next year.
Before it's here, it's on the Bloomberg Terminal.
LEARN MORE