Detroit NAACP Seeks Voters in Jail With Registration Drive
Chris Christoff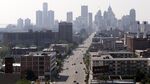 A captive audience awaits next month's election in Detroit, where 360 county jail inmates are newly registered to vote behind bars.
For the first time, the city's NAACP branch is arranging for officials to deliver absentee ballots to those whose legal entanglements would normally preclude civic engagement.
"We needed to do whatever it took to get back in there and make sure those folks have ballots," coordinator Simone Lightfoot said in an interview. "Incarceration doesn't stop voter participation."
An increasing number of U.S. citizens have lost their right to vote because of criminal records. Between 1996 and 2010, the number barred from voting rose to almost 5.9 million from 3.3 million, according to the Washington-based Sentencing Project, a nonprofit research and advocacy organization.
Laws preventing voting after convictions, which vary by state, have left one of every 13 voting-age blacks unable to cast ballots, according to a 2012 Sentencing Project report. In Florida, almost one in four are kept out of the democratic process.
Michigan law allows those in jail awaiting trial to vote; once convicted and incarcerated, they can't until they're released.
Detroit Democracy
Since 2000, Lightfoot has helped the National Association for the Advancement of Colored People sign up accused criminals to vote in Michigan's largest city, whose population is 83 percent black. Similar registrations have taken place in past years in Georgia, North Carolina, Pennsylvania and Maine. The national NAACP doesn't lead or track such efforts, said Michelle Nealy, spokeswoman for the organization in Washington.
In Detroit, Lightfoot said that pulling off the jailhouse vote takes cooperation from Wayne County Sheriff Benny Napoleon and local election officials.
Many inmates are first-time voters, and state law requires them to cast ballots in person rather than absentee, Lightfoot said. To comply, she's arranging to bring Detroit officials to the jail to oversee the process for city residents. Voting will take place in a private area, with deputies present.
"Getting them to vote shows them that they have a vested interest in the process and that their say counts," Napoleon said in a statement.
Compelled Participation
While encouraging voter participation is commendable, inmates could be intimidated to vote Democratic by other prisoners, sheriff's deputies or election officials, said Jim Thienel, chairman of the Republican Party in neighboring Oakland County.
"It's definitely legal, but certainly questionable," Thienel said in a phone interview. He added, "I feel extremely uncomfortable with the NAACP acting as ambassadors for elections clerks. I would be just as uncomfortable if was a strong Republican group going into the jail."
About 2,050 inmates are held in three county jails, two in downtown Detroit and one in neighboring Hamtramck. The Detroit NAACP also registers voters at homeless shelters and mental-health facilities, Lightfoot said.
She said voters have been demoralized by the state's takeover of city operations last year and the subsequent bankruptcy filing.
"The only way we can recapture it is to participate in a huge way and going to every nook and cranny," she said.
Michigan will elect a governor and U.S. senator, as well as U.S. representatives and a state legislature. Lightfoot said she doesn't suggest to inmates how they should vote. Many are interested in criminal-justice issues, she said.
"They know the names of candidates, they look at their penal policies," she said. "They're very much in tune with, once you commit a crime, how the law affects you."