China Wants to Trigger a Sports Industry Boom
Christina Larson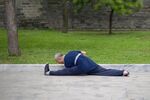 Michelle Obama has told American schoolchildren, "Let's Move!" Now China's top leaders are getting behind their own program to boost fitness levels and the sports industry.
China's State Council (its analog to the U.S. cabinet) released projections this week that the fitness industry would reach 5 trillion renminbi ($800 billion) by 2025 and account for an estimated 1 percent of China's GDP, vs. 0.6 percent today. "There are great opportunities for foreign investors, particularly in areas such as sporting events, overseas sports tourism, and venue management," Liu Fumin, director of the finance department at the General Administration of Sport, told the state-run China Daily.
IBISWorld, a business intelligence company in Australia, offered an even more bullish prediction for China's future fitness market in its May 2013 industry report: From a base of $3.69 billion in annual revenue in 2012, IBISWorld projects China's fitness industry will be worth $6.83 billion by 2018.
Theo Hendricks, chief executive of the Netherlands consultancy Sports & Leisure Group, earlier told Bloomberg Businessweek that "China could become the biggest fitness market in the world within the next 20 years."
Mao Zedong famously implored Chinese people to "develop sports, enhance people's physique." In recent years, however, rigorous academics and after-school test-prep courses have squeezed out athletics and extracurriculars at most Chinese middle schools and high schools. Meanwhile, limited exercise and plentiful junk food have led to rising childhood obesity, with nearly a quarter of boys under age 20 now obese in China.
Before it's here, it's on the Bloomberg Terminal.
LEARN MORE