Amazon Employees, Not Investors, Will Have to Pressure Jeff Bezos to Slow Down
By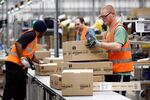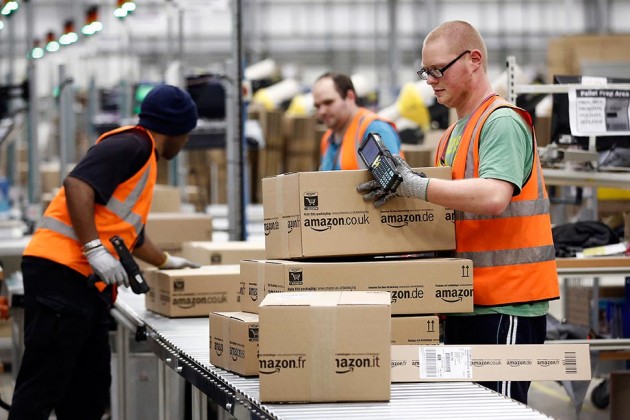 Thursday's quarterly earnings report from Amazon spooked Wall Street. The 95¢ per share loss for the third quarter was worse than even the 74¢ loss analysts had expected. Revenue came in at $20.58 billion, a 20 percent jump from the same quarter a year ago and well ahead of the overall e-commerce growth rate of 15.7 percent. Yet analysts had expected slightly better sales, and Amazon's projections for the all-important coming holiday quarter also missed estimates.
So the stock tanked, down 11 percent in after-hours trading—after already having fallen 20 percent for the year. It's a terrible time to be an Amazon bull.
The reality is that the company is spending wildly on new initiatives. Amazon poured $21.1 billion into operations in the quarter, up 23 percent from a year earlier. The money is being funneled into a wide range of new initiatives, such as 13 fulfillment centers that were built this year and Amazon Fresh, its same-day grocery delivery service, which went live in Brooklyn earlier this month. There's also category expansion (deeper into areas like apparel), geographic expansion (India, where the company is spending $2 billion), new digital freebies for loyal customers (Prime Music and Prime Video), and such devices as Kindle Fire tablets and Kindle e-readers.
The last category has been particularly expensive. The Fire Phone, which went on sale with AT&T over the summer, was such a flop that the company slashed the price to effectively nothing and barely mentioned it in the earnings release. Chief Financial Officer Tom Szkutak said in a call with analysts that Amazon is taking a $170 million charge in the form of "inventory evaluations and supplier commitment costs." In other words: Oops.
The biggest question is whether these stumbles will change the way Chief Executive Officer Jeff Bezos and company operate the e-commerce giant. Amazon is like a sports car with an accelerator that is frequently pressed all the way forward, mostly because its driver-CEO believes the road ahead is clear, and there's a lucrative race to be won. Investor pessimism doesn't seem to dampen Bezos's appetite for risk.
Employees unsettled by Amazon's steadily depreciating stock price are probably the only thing that can force Bezos to slow down. Amazon workers are compensated heavily with stock grants, which are parceled out over four year periods. Promises of great stock rewards motivate employees to stick around amid a grueling work environment. While Amazon is a huge company with plenty of employees coming and going, lately it's been losing key players to rivals.
On the conference call with analysts, Morgan Stanley analyst Scott Devitt asked Szkutak how the company evaluates investments that don't succeed, such as the Fire Phone and Amazon's expensive move into China. In his response, Szkutak sounded an unusual note of restraint, one he repeated several times on the call.
"We try to learn from everything we do as we launch new opportunities," Szkutak said. "The way I would describe it, from a looking-forward standpoint, [is that] we still think we have a lot of opportunities. That said, we need to be very selective about what opportunities we pursue. That's the way we are thinking about it."
There just might be a movement within the company to persuade Bezos to apply some brakes.
Before it's here, it's on the Bloomberg Terminal.
LEARN MORE