Amazon Cloud Division Returns to Growth Amid Price Cuts
Jack Clark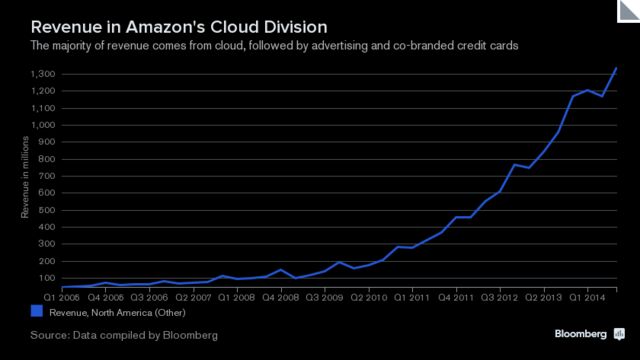 Amazon.com Inc.'s cloud division returned to growth after a hiccup earlier this year, as price cuts attracted new customers and spurred existing clients to spend more.
The online retailer reported third-quarter sales of $1.34 billion for a division it calls "North America, Other" yesterday, up from $960 million a year ago and $1.17 billion in the prior quarter. That's the category that contains Amazon Web Services, or AWS, a strategically important cloud business that rents computing hardware and software products via the Internet to customers worldwide.
The performance reverses a stumble in the previous period, when Amazon reported its first declining sales in the division outside of usual seasonal fluctuations. The company is fighting increased competition from rivals including Microsoft Corp. and Google Inc., which have slashed the prices of their cloud offerings this year.
Amazon also reduced AWS prices this year in response to rivals' moves, which hurt revenue in the prior quarter. Since then, Amazon has offered more services and upgraded more products. The lower prices have drawn new cloud customers and pushed existing clients to use the service even more, Chad Bartley, an analyst at Pacific Crest Securities LLC, wrote in an e-mail.
Lower Prices
"The main thing is they lowered prices pretty significantly earlier in year, so it seems like there is some elasticity there and growth in volume is helping sustain AWS revenue growth rates," Bartley said.
Chief Financial Officer Thomas Szkutak said in a conference call yesterday that the Seattle-based company is pleased with the performance.
"We saw very good growth," he said.
Amazon doesn't break out how much it makes from the AWS business. Instead it lumps those sales in with revenue from advertising and co-branded credit cards in the "North America, Other" category. Szkutak yesterday said sales from AWS represent "the vast majority" of that division.
In 2013, Amazon reported sales of $3.72 billion in the category. The company made $651.7 million from advertising sales in North America last year, or 17.5 percent of the total revenue in that division, according to figures compiled by EMarketer and shared with Bloomberg News.
Still, sales in the division are expanding at a slower rate on a year-over-year basis after peaking in 2011. Revenue this time was up 39 percent from a year ago, but down from 57 percent growth last year.
Amazon also spent $1.38 billion on purchases of property and equipment during the quarter, a portion of which goes to building AWS data centers, up from $1.04 billion a year ago.
With yesterday's results, Amazon's sales in the "North America, Other" category totaled $3.71 billion for the first three quarters of the year, compared with $3.72 billion for the entire 2013.
Before it's here, it's on the Bloomberg Terminal.
LEARN MORE