politics
A Less-Than-Astute Anti-Gay Marriage Mailer in New Jersey
Cory Booker takes fire from an incompetence source.
By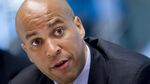 A New Jersey reader, who says he's a high frequency-voting Republican, sends me this valentine he got in the mail.

If you know that the name of New Jersey's junior senator is "Cory Booker," condolences: You cannot be a fact-checker for Public Advocate of the United States. That's the group responsible for this mailer, which ostensibly supporters Booker's underfunded challenger Jeff Bell, and reminds voters that Booker supports "homosexual 'marriage'" (scare quotes in the original) and "the Gay Bill of Special Rights." Like many fringe groups, it can be obscure one day and infamous the next—founder Eugene Delgaudio has been censured by the Loudoun County board of supervisors in Virginia (on which he serves), and Public Advocate earned "hate group" designation from the Southern Poverty Law Center after it started labeling anti-gay organizations as such.
Booker, who won the Senate seat in a 2013 special election, currently leads Bell by 13 points in an average of all polls.
Before it's here, it's on the Bloomberg Terminal.
LEARN MORE