With Rounds on Thin Ice, Super-PAC Ups Its Buy in South Dakota
As more South Dakota news worries Republicans, a PAC increases its buy.
By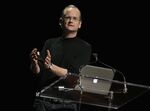 Last week, when I was reporting from South Dakota, conservative insurgent candidate Gordon Howie told me that the ice would crack under the GOP if one more misfortune struck Senate nominee Mike Rounds.
Today, the Sioux Falls Argus Leader's David Montgomery finds something that certainly looks like an ice pick. According to Montgomery, in 2010 the retiring Governor Rounds "knew his Cabinet secretary, Richard Benda, was going to work for an investor in the Northern Beef Packers plant about the time he approved Benda's proposal to give the plant more state aid," a total $600,000 in loans. From the article:
Rounds said he didn't recall when exactly he learned Benda would be going to work for a Northern Beef investor, making it impossible to say whether Rounds learned of Benda's future employment before approving the Northern Beef money or immediately afterward.

Benda didn't identify which investor he would be working for, and Rounds said he didn't press. Benda went to work for SDRC Inc., a company managing EB-5 foreign investments for projects, including Northern Beef. On Tuesday, Rounds said he now feels Benda "misled" him by not disclosing where he was going.
When I talked to Rounds about the scandal, he said that he'd put his trust in Benda and been let down. Benda, who committed suicide last year, can't exactly speak for himself. All the fury and Michael Bay-movie explosions around the story are feeding right into the ongoing work of Mayday PAC, the Larry Lessig-founded group that wants to upend the post-Citizens United campaign finance regime and reform politics. It just upped its commitment to South Dakota—to $1.4 million, up from $1 million—and dropped this ad:
Mayday is closing out its inaugural cycle with a barrage of spots on deep red ground. In Kansas, Mayday followed its now-standard ad design, the Progressive Change Campaign Committee-pioneered strategy of putting average-seeming voters up front in the ads. (The current Koch network blitz that my colleague Annie Linksey has been reporting on suggests that persuadable voters like this stuff.) Kansas Republicans responded by challenging the partisan credentials of Nancy Moffitt, the ad's star, who had switched parties in 2013 and could not credibly be called a "lifelong Republican."
In Michigan, Mayday has been attacking Representative Fred Upton, who's never looked so vulnerable in polling as Rounds or as Kansas Senator Pat Roberts. (Coincidentally, Upton's challenger shares a pollster with Greg Orman, the independent challenger in Kansas.) Ryan Grim's got solid details on the fallout: Upton, who has led the Energy and Commerce committee in the House, has (through staff) been asking Mayday's Silicon Valley donors if they realize what they're doing.
Well, what are they doing? Congressional staffers familiar with the worries and demands of the tech industry suggested that an angry GOP could retaliate in a few ways. It could side with AT&T and pressure the FCC to regulate Silicon Valley as "telecom infrastructure." It could, generally, side against the tech industry in its lobbying for net neutrality.
Best to classify the Mayday push into Michigan as "risky." The Kansas and South Dakota pushes aren't risky at all. They also define Mayday as an "anti-corruption" PAC, not as another group focused on tech industry interests. As Nancy Scola reports, the tech industry has not quite emptied its coffers for Colorado Senator Mark Udall, and he's arguably the best ally it has on privacy. The big "Silicon Valley" PAC is not in Udall's race.