UNC Admits Fake Classes for Athletes Were Widespread: Four Blunt Points
Paul M. Barrett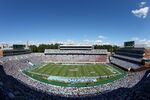 The University of North Carolina on Wednesday admitted its academic-fraud-for-athletes scandal was worse than the public has previously been told. That's saying something. After all, the practice at Chapel Hill of steering football and basketball players into fake classes had already made North Carolina the epicenter of a national debate about the corrupting effects of the $16 billion college athletics industry. Four blunt points:
1. The deceit was widespread and aimed at keeping athletes eligible. For years, UNC officials have resisted the obvious indications that academics were compromised to promote sports. That resistance has finally collapsed. The latest in a series of university-sponsored investigations revealed that over 18 years—from 1993 through 2011—some 3,100 students took "paper classes" with no faculty oversight and no actual class attendance. Almost half the students enrolled in the phony courses were athletes. Many of the basketball and football players "were directed to the classes by academic counselors" assigned to advise athletes, UNC said in a written statement. "These counselors saw the paper classes and the artificially high grades they yielded as key to helping some student-athletes remain eligible."
In other words, to keep members of UNC's top-rated basketball team on the court, professional "counselors" encouraged flat-out academic fraud.
2. Of all disciplines, it was black studies that hosted the fake classes. Kenneth Wainstein, the former federal prosecutor who led the latest investigation, found that the department formerly known as African & Afro-American Studies offered hundreds of "irregular classes." Wainstein, now in private practice, said that two people formerly in the department—the ex-chairman, Julius Nyang'oro, and his top administrative aide, Deborah Crowder—oversaw the paper classes. "Various university personnel were aware of red flags," UNC said, "yet did not ask questions. There was a failure of meaningful oversight by the university."
Wainstein didn't find wrongdoing outside the black studies department. "No current coaches were involved or aware," the university added.
The corruption of African American studies is particularly offensive, as UNC's elite athletic ranks are disproportionately African American: black students, many of them from modest economic backgrounds, who provide athletic services in exchange for the promise of a college education. That's supposed to be a real education, not one built on no-show classes.
3. UNC is sorry. "I apologize first to the students who entrusted us with their education and took these courses," said UNC-Chapel Hill Chancellor Carol Folt. "Mr. Wainstein has found that the wrongdoing at Carolina lasted much longer and affected more students than previously known. The bad actions of a few and the inaction of others failed the university's students, faculty and alumni, and undermined the institution as a whole." Folt, who became chancellor in in 2013, promised a variety of academic reforms and said that nine (unspecified) UNC employees would be fired or disciplined. "Others implicated in the [Wainstein] report include former university employees," such as Nyang'oro and Crowder, the university said.
4. Questions remain. The National Collegiate Athletic Association is conducting a separate investigation. One hopes that with the skepticism of outsiders, the NCAA will address in more detail the role of top athletic officials and coaches—current and former—within a sports program that has won five national men's basketball championships. How many members of UNC's last championship team in 2009 took the no-show classes, and how many did they take? As a signal that academic integrity really outweighs sports accolades, should UNC consider taking down that 2009 championship banner? Has the message penetrated the school's athletic department to the degree that highly valued athletes are no longer being steered into dubious classes that contribute little to the education they're owed?
Today's admission shouldn't be the end of the inquiry.
NOTE: Peter Grauer, the chairman of Bloomberg L.P., which owns Bloomberg Businessweek, is a trustee of the University of North Carolina at Chapel Hill and sits on its Foundation Board and on the UNC Global Research Institute Board.
Before it's here, it's on the Bloomberg Terminal.
LEARN MORE