The Most Fun Tom Coburn Has All Year - And You Paid For It
Rabbit massages, Wikipedia sexism and other "silly, unnecessary, and low priority projects" the senator says are costing taxpayers.
By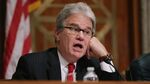 Government-funded Swedish massage for rabbits and voodoo studies on "hangry" spouses?
Senator Tom Coburn of Oklahoma, a conservative Republican who made his political career railing against wasteful taxpayer spending, is retiring from office this year, but not before giving us one more glorious Wastebook.
"Only someone with too much of someone else's money and not enough accountability for how it was being spent could come up with some of the zany projects the government paid for this year," Coburn wrote in the introduction to the document that documents 100 "silly, unnecessary, and low priority projects" costing taxpayers $25 billion.
Among the projects:
* $331,000 from the National Science Foundation to fund a study that determined that hungry people were more likely to stab voodoo dolls of their spouses out of anger.
* $387,000 from the National Center for Complementary and Alternative Medicine of the National Institutes of Health to study the benefit of Swedish massage on rabbits, who were later euthanized. "The director of the National Institutes for Health claims a vaccine for Ebola 'probably' would have been developed by now if not for the stagnant funding for the agency, which has a $30 billion annual budget," Coburn said. "Yet NIH did come up with the money to pay to give Swedish massages for rabbits."
* $202,000 from the National Science Foundation for university research on whether Wikipedia is sexist.
* $194,090 for researchers to send regular text messages to heavy drinkers to try to curb their drinking patterns.
* $2 million for a U.S. Department of Agriculture competition to build wood rather than steel skyscrapers.
* $533,376 to study the impact of Buddhist literature on sleep.
* $5 million from the Federal Aviation Administration for a fence project in Sioux Falls that turned into a 27-hole golf course renovation.
* $1.4 million from the Department of Housing and Urban Development to Cary, N.C., to finance a boutique hotel with tea and spa services under the argument the project will create jobs for low-income residents.
* $55,000 from the federal government for costs related to former Secretary of State Hillary Clinton's book tour this year in Europe — including $3,668 for one night in a suite at the Four Seasons George V hotel in Paris.
Also on Bloomberg Politics: Things Chris Christie Is Tired Of: A Timeline
Most of the $25 billion comes more substantive policies that conservatives object to but are more complex and woven into the fabric of society and harder to poke fun at — like $4 billion in Medicaid provider taxes, or $1.7 billion for the federal Job Corps — or systemic problems like $4.2 billion annually in fraudulent tax returns or the Defense Department paying a contractor 16 times the going rate for helicopter parts.
"With no one watching over the vast bureaucracy, the problem again isn't just what Washington isn't doing, but what it is doing," he said, ending with this rallying cry: "Taxpayers always have the last word."