N.Z. Inflation Slows, Gives RBNZ Scope to Prolong Rate Pause
Tracy Withers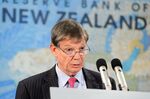 New Zealand inflation in the third quarter slowed more than economists and the central bank forecast, giving Governor Graeme Wheeler scope to keep borrowing costs unchanged for longer. The currency fell.
The consumers price index rose 1 percent in the third quarter from a year earlier, after increasing 1.6 percent in the previous period, Statistics New Zealand said in Wellington today. That's less than the 1.3 percent expected by the Reserve Bank of New Zealand and the 1.2 percent median forecast.
Benign inflation signals that Wheeler can keep the official cash rate unchanged at 3.5 percent after four increases between March and July this year. There is about an 80 percent chance of the benchmark being unchanged or lower by June, according to swaps data compiled by Bloomberg.
"The risk profile is tilting toward a prolonged pause and later resumption of OCR hikes," Mark Smith, senior economist at ANZ Bank New Zealand Ltd. in Auckland, said in a note. Timing of the next rate rise is conditional on the currency and economic developments, both here and abroad, "but for now, it feels like more than a year away," he said.
The New Zealand dollar fell to 78.71 U.S. cents at 12:06 p.m. in Wellington from 79.09 cents immediately before the release.
Wheeler on Sept. 11 signaled an extended rate pause to assess how a previously strong currency, falling commodity prices and his earlier tightening would affect the economy. The RBNZ lowered its inflation outlook, predicting it won't reach the midpoint of its 1 percent-to-3 percent target range until the second half of 2016, a year later than it projected in June.
World's First
New Zealand's currency has slumped 9 percent in the past three months after Wheeler said its level was unjustified and unsustainable. While the depreciation makes imports more expensive, this upward pressure has been offset by falls in commodity prices and deflationary pressure globally, said Toplis.
Wheeler was the first central banker from a developed nation to raise official interest rates this year after holding them at a record-low 2.5 percent for three years to help revive the economy. He next reviews interest rates on Oct. 30.
New Zealand joins other nations in experiencing benign inflation. A gauge of core prices in Australia rose less than economists expected in the third quarter, according to government figures yesterday. Prices in the U.S. rose 0.1 percent in September from August. Annual inflation in the U.K. slowed to a five-year low in September.
Non-Tradable
Consumer prices rose 0.3 percent from the second quarter, according to Statistics New Zealand. That's less than the 0.5 percent expected by economists. Quarterly inflation was fanned by housing costs while prices for furniture, appliances and communications declined, the agency said.
Non-tradable inflation, a core measure of prices not influenced by the currency and fuel, was underpinned by increases in land taxes, rents and the cost of building new homes. The gauge rose 0.5 percent in the quarter from the previous three months. The gains were offset by lower telecommunications costs and cheaper bread.
From a year ago, non-tradables prices rose 2.5 percent, less than the 2.8 percent gain projected by the RBNZ.
Tradables prices, which are influenced by currency movements, gained 0.1 percent from the second quarter. Vegetable and gasoline prices rose while groceries and new cars were cheaper, today's report showed.
From a year ago, tradables prices fell 1 percent. The RBNZ forecast a 0.6 percent decline.
Before it's here, it's on the Bloomberg Terminal.
LEARN MORE