GOP Group Readies 1,000-Lawyer Army for Election Day
With Election Day fast approaching, both parties have legal teams ready for voting challenges or whatever else might happen.
By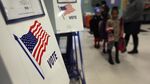 Unlike most Election Days, this one has a decent chance of ending without a clear winner. Blame the excruciatingly tight races around the country that could lead to recounts, the two potential runoffs that may dictate control of the U.S. Senate, and the Supreme Court for taking action on state voting laws just weeks before Election Day.