Ottawa Reeling as Soldier Dies After Attack at Parliament
Theophilos Argitis, Andrew Mayeda and Greg Quinn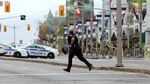 Canada is reeling after a day of violence in the nation's capital, including a shootout in its main legislature building and the gunning down of a soldier guarding the country's war memorial.
Stores and office buildings in downtown Ottawa were locked down after the unprecedented attack, raising terrorism concerns nationwide. The gunman was known as Michael Zehef-Bibeau, according to a U.S. law enforcement official who spoke on condition they not be identified. He was killed by parliamentary security officials.
Prime Minister Stephen Harper, who earlier this month authorized air strikes against Islamic State militants, is safe and isn't on Parliament Hill, according to a statement from his office. He's expected to speak publicly at 7:45 p.m. The attack comes two days after the murder of a soldier in a mall parking lot by a "radicalized" man near Montreal.
"This is a dynamic situation and is evolving," Gilles Michaud, commander of the Royal Canadian Mounted Police's National Division, said in a televised news conference.
Witnesses said a man with a long, dark coat was seen shortly before 10 a.m. at the war memorial carrying a rifle. He killed a soldier at the site before fleeing toward Parliament Hill. A few minutes later, at least a dozen shots were fired inside the parliament buildings close to where lawmakers were meeting. The soldier who died was Cpl. Nathan Cirillo, according to a defence department official who asked not to be named because the information isn't public.
The suspect was a Canadian citizen who had converted to Islam, according to the U.S. official. He was known to Canadian authorities and had his passport seized, according to the Globe & Mail newspaper, which didn't say where it obtained the information.
Balaclavas, Rifles
Police wearing balaclavas and flak jackets and carrying assault rifles are still patrolling an area that stretches at least five blocks from Parliament Hill. Dozens of workers streamed by foot southward from Parliament Hill after being let out of their offices.
The U.S. embassy in Ottawa is in lockdown and all personnel have been accounted for, State Department spokeswoman Marie Harf told reporters in Washington today. Secretary of State John Kerry has been briefed on the situation and the movement of embassy staff was being restricted as a precautionary measure, she said.
"We're in lockdown," Karl Belanger, spokesman for the New Democratic Party leader Thomas Mulcair, said in a telephone interview from the parliament building, where he was waiting with about a dozen party staff for the lockdown to be lifted. "I looked outside my window and saw the RCMP deploying, about 30 cruisers."
'I'm Shaking'
Parliamentary security forces reinstated a lockdown about 7 p.m. at several downtown buildings that house lawmaker offices and political party officials, according to an e-mail sent by the Parliamentary Press Gallery.
One staff member for an opposition lawmaker, who asked not to be identified because he's not authorized to speak publicly, said he was still being locked down in a room in the main parliament building, along with one member of the House of Commons and one Senator. A threat remains outside the buildings, the staff member said he was told.
"I'm ex-military and I've never had a weapon pointed at me," said Barry Willis, a maintenance worker on Parliament hill, who said the gunman was wearing a blue and white headscarf. "I'm shaking."
Earlier this week, two Canadian armed forces members were hit by a car in Saint-Jean-Sur-Richelieu, a town about 50 kilometers (30 miles) southeast of Montreal. One of the soldiers later died. The driver, who authorities say had been "radicalized," was shot by police after a car chase and the government said the attack was linked to "terrorist ideology."
Parliamentary Debate
During Parliamentary debates this month about whether to take military action against Islamic State militants in Iraq, Harper said the threat from the group "is explicitly directed, in part, against this country." CF-18 fighter jets left an Alberta military base yesterday to take part in the mission.
"We're looking at multiple suspects," Constable Chuck Benoit, spokesman for the Ottawa Police Service, said in a telephone interview. Police were dispatched to track two to three suspects, whose descriptions they have from intelligence reports, Benoit said. Ottawa police chief Charles Bordeleau later declined to comment on how many suspects there may be.
The FBI offered its assistance to Canadian investigators and sent a reminder to its field officers to stay on alert "in light of recent calls for attacks against government personnel by terrorist groups and like-minded individuals."
Armed Officers
Police warned residents to stay away from the downtown core and to keep away from windows. Armed officers were on the scene, with about 20 police cars surrounding the war memorial steps from Parliament Hill.
Harper was set to meet today with with Nobel Prize winner Malala Yousafzai in Toronto, who was to be given honorary Canadian citizenship for her fight against extremist violence. That event was postponed.
Marc-Andre Viau, a spokesman for the New Democratic Party, said he saw a gunman enter the main parliamentary building that houses the legislative chambers, pursued by police. Maurice Vellacott, a lawmaker for the Conservatives, said he was giving a tour to visitors when he heard a shot fired. "At first when you hear the bang, you're not sure what it is," Vellacott told reporters.
"What I saw was one person shot," said Yan Legtenvorg, a tourist from Holland who was at the war memorial. He ran "to Parliament Hill with his rifle in his hand. Small guy with long black hair. We heard four shots and we saw the guy running away with a long rifle."
Soldier Running
Another witness, Raivo Nommik, said "I was walking back. I heard the first shot and turned around and I thought at first it was just ceremonial. Then I just saw the guy with the rifle. The second soldier there running and he ran over one of the walls here and I just ducked down behind the wall."
The Standard & Poor's/TSX Composite Index dropped almost 14 points in the 10-minute period when the first headline said shots were fired in Ottawa. It fell a further 60 points in the next 10 minutes. It declined 1.6 percent today, the most since June 2013.
Bank of Canada Governor Stephen Poloz postponed a press conference planned for 11:15 a.m. in Ottawa to discuss the bank's rate announcement today and monetary policy report, as well as a planned appearance before the Commons Finance Committee at 3:30 p.m. and tomorrow's testimony to the Senate Banking Committee.
"I was completely terrorized," Alexandre Boulerice, an NDP lawmaker from Quebec who was inside parliament when the shots occurred, said in a telephone interview with RDI Television. "I've never been so scared in my life. I heard a bunch of gunshots outside the door and there was no way to know how many shooters there were."
"I've never experienced such a level of adrenaline or stress," he said.