Buffett's NetJets China Growth Slowed by Austerity Moves
Thomas Black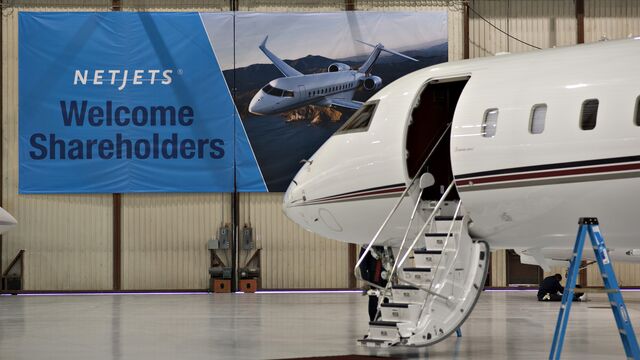 NetJets Inc., the aviation unit of Warren Buffett's Berkshire Hathaway Inc., will need about five years to make self-sustaining the chartered jet business it began last month in China, as government officials shun private jets.
The Chinese Communist Party's austerity measures are dragging on growth for private aviation, which also faces an economic slowdown and a lack of general aviation airports, said Robert Molsbergen, president of NetJets' executive jet management unit.
"Typically a lot of the flying in China was done by Chinese officials and that basically is almost all gone," Molsbergen said in an interview at the National Business Aviation Association conference in Orlando, Florida.
The government's decision to pull back on infrastructure spending and scrutinize expenses shows how policy shifts in China can affect the business climate. The economy is forecast to grow 7.3 percent this year and 7 percent next year, according to data compiled by Bloomberg. That compares with 14.2 percent in 2007.
The Civil Aviation Administration of China last month authorized NetJets, based in Columbus, Ohio, to offer private aircraft services. The operation, which has two aircraft, is the first foreign-owned chartered jet company in China and has about 20 local competitors, Molsbergen said. It will take a few years to break even in China, he said.
The world's most populous country has only about 200 airports for general aviation, less than half than in the state of Ohio, he said. Construction on an airport north of Beijing is a good sign, he said.
Infrastructure Investment
"They understand that it is an essential part of the growth of their economy," Molsbergen said of the private aviation industry. "We are encouraged by some of the signs that they will continue to invest in infrastructure."
NetJets will build up its chartered and managed jet business before starting fractional ownership in China, which requires more investment, Molsbergen said. It may take a decade, he said. The chartered business in China has the advantage of tapping into NetJets customers in the U.S. and Europe who need to fly there.
"It's a market where we all know that we have to have a long view," Molsbergen said. "China is going to be a significant market for us."
Before it's here, it's on the Bloomberg Terminal.
LEARN MORE