U.S. Stocks Rise With Dollar, Bonds Drop on Growth Bets
Lu Wang and Jeremy Herron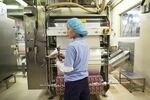 U.S. stocks surged, the dollar rose and Treasuries fell amid better-than-forecast corporate earnings and data signaling stronger economies from China to Europe. Copper and oil advanced.
The Standard & Poor's 500 Index increased 1.2 percent at 4 p.m. in New York, bringing its rally from an Oct. 15 low to 4.7 percent. The Dow Jones Industrial Average rallied 1.3 percent to erase its loss for 2014 as Caterpillar Inc. jumped 5 percent after earnings beat analysts' projections. Ten-year Treasury yields rose six basis points to 2.27 percent. Japan's currency slid against the dollar for a sixth day. Copper climbed 0.7 percent. Crude rebounded from a two-year low after a person with knowledge of Saudi Arabia's oil policy said the kingdom cut supply in September.
Fewer Americans filed applications for unemployment benefits over the past month than at any time in 14 years, while the September index of leading economic indicators rose 0.8 percent. Earnings from Caterpillar to 3M Co. surpassed analysts' estimates. Separate data showed manufacturing in the euro area unexpectedly revived in October while a gauge of Chinese factory activity rose, exceeding analysts' estimates.
"We're seeing some peace here in earnings and better macro data, which is helping to fuel investor confidence," Alan Gayle, who helps oversee $45 billion as director of asset allocation for RidgeWorth Investments in Atlanta, said by phone. "A lot of people have been worried about a slowdown in the EU, so any good news is welcomed by investors."
Equities Rally
The S&P 500 fell 0.7 percent yesterday, snapping a four-day winning streak spurred in part by encouraging earnings. The gauge has rebounded about 7 percent since sinking nearly 10 percent on an intraday basis from its Sept. 18 record.
Benchmark equity indexes pared gains after a New York health-care worker was taken to Bellevue Hospital Center to be tested for a possible case of Ebola.
Paramedics brought the patient in with a fever and gastric distress, according to a city news release today. The person returned from an Ebola-stricken country within the past three weeks, according to the statement from Health Commissioner Mary Bassett. Results of the test are expected in 12 hours.
The Russell 2000 Index of small companies surged 1.7 percent, while the Nasdaq Composite Index added 1.6 percent to a two-week high.
The yield on benchmark 10-year notes reached the highest level in a week, as the global data eased concern that slowing growth may hinder the U.S. economy. The Federal Reserve meets next week amid speculation it will end its bond-purchase stimulus program.
Dollar Rally
The dollar extended its rally against the yen to six days, the longest since August, rising 1 percent to 108.17 yen. The euro was little changed at $1.2651. The shared currency advanced 1 percent to 136.84 yen.
Amazon.com Inc. and Microsoft Corp. are among the 45 S&P 500 members reporting earnings today. Amazon shares sank 6.7 percent in late trading after it posted a wider-than-estimated loss. Microsoft added 1.7 percent following its report.
About 80 percent of those companies that have released results this season beat earnings projections, while 61 percent surpassed revenue estimates. Profit for index members rose 5.9 percent in the third quarter and sales increased 4 percent, analysts predicted.
Seven of the 10 main groups in the S&P 500 advanced today, with Caterpillar pacing a 2.2 percent rally among industrial stocks. Tractor Supply Co. surged 16 percent after earnings topped estimates.
Energy stocks advanced 1.8 percent for the sixth gain in seven days. Chevron Corp. jumped 1.9 percent.
3M, AT&T
3M jumped 4.4 percent, the most in nearly three years, after the maker of Post-it notes and Scotch tape boosted sales in all of its businesses. AT&T Inc., the second-largest U.S. wireless carrier, sank 2.4 percent after it missed profit estimates and cut its sales forecast.
"The fundamental focus is on earnings," Leo Grohowski, chief investment officer at New York-based BNY Mellon Wealth Management, which oversees about $187 billion, said in a phone interview. "Caterpillar earnings are giving the market a boost. The bigger picture fear of global growth slowdown is going to remain with us. That's going to prevent any meaningful market appreciation. Investors should be prepared for a choppy ride."
Volatility Decline
The Chicago Board Options Exchange Volatility Index dropped 7.6 percent to 16.52. The gauge known as the VIX rallied 11 percent yesterday after plunging 39 percent in the previous four days.
European equities added 0.7 percent for a third day of gains. The Markit Economics purchasing managers index for euro-area manufacturing rose to 50.7 in October from 50.3. Economists surveyed by Bloomberg News predicted a drop to 49.9. A reading below 50 indicates contraction. A similar measure for Germany showed manufacturing in the region's largest economy rebounded from last month's contraction.
European stocks have led a rout that erased as much as $5.5 trillion from the value of shares worldwide amid speculation that the European Central Bank's stimulus measures will not be enough to spur growth. Investors are analyzing economic data to gauge the health of the economy after the International Monetary Fund said this month that the euro region risks falling back into recession.
Europe Movers
Among stocks moving today, Unilever Plc, a maker of laundry detergents, declined 3.7 percent after reporting the slowest revenue growth in five years. Tiremaker Michelin & Cie. lost 4.9 percent after cut its volume growth forecast. Tesco Plc tumbled 6.6 percent after the U.K.'s biggest supermarket company said accounting irregularities will impact profit.
The MSCI Emerging Markets Index lost 0.6 percent, falling for the first time in five days as Brazil's Ibovespa erased 2014 gains before weekend elections.
Copper futures for December delivery added 0.7 percent to settle at $3.04 a pound on the Comex in New York. China is the biggest buyer of industrial metals, and Germany is the third-largest.
Brent gained the most in four months and West Texas Intermediate rose from a two-year low after market supplies from Saudi Arabia, the world's biggest crude exporter, were said to have dropped last month.
WTI for December delivery climbed to $81.35 a barrel in New York. Crude dropped $1.97 to $80.52 yesterday, the lowest close for a front-month contract since June 28, 2012.
Gold for December delivery declined 1.3 percent to settle at $1,229.10 an ounce in New York, the biggest drop for a most-active contract since Oct. 3. Earlier, the metal touched $1,226.30, the lowest since Oct. 15.
Before it's here, it's on the Bloomberg Terminal.
LEARN MORE