We Don't Have a Surgeon General Because Democrats Made a Losing Bet on Gun Politics
Why the NRA didn't give Democrats a pass even after they skunked their own nominee.
By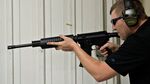 There have been no new Ebola cases in the United States for 11 days. That has not halted the outbreak of Maple Street-style panics in small towns; it has certainly not unjangled the nerves of Democrats, who'd prefer not to lose too many Senate races this year. As Republicans hit "play" on Ebola-themed ads, some Democrats have challenged the Right over the fact that there's no confirmed Surgeon General in office right now. Byron York reminds readers that Democrats could have confirmed Obama's nominee, Vivek Murthy, with just 51 votes, but chose not to.