We Don't Have a Surgeon General Because Democrats Made a Losing Bet on Gun Politics
Why the NRA didn't give Democrats a pass even after they skunked their own nominee.
By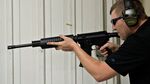 There have been no new Ebola cases in the United States for 11 days. That has not halted the outbreak of Maple Street-style panics in small towns; it has certainly not unjangled the nerves of Democrats, who'd prefer not to lose too many Senate races this year. As Republicans hit "play" on Ebola-themed ads, some Democrats have challenged the Right over the fact that there's no confirmed Surgeon General in office right now. Byron York reminds readers that Democrats could have confirmed Obama's nominee, Vivek Murthy, with just 51 votes, but chose not to.
"In 2012, Murthy got a lot of attention when he expressed frustration with opponents of his preferred gun control policies," writes York. "The National Rifle Association took a strong stand against Murthy, a position that caught the attention not only of Republicans but of red-state Democrats seeking re-election." 
That's understating the opposition just a tad. The NRA actually promised to score votes for Murthy – anyone who backed him would see a drop in his grade from the gun lobby. Among the horribles that made Murthy unacceptable were tweets like this (as York cites):
You can see why the NRA wanted to prevent such a doctor from becoming surgeon general. And you can sort of see why red state Democrats begged Harry Reid to prevent a vote on him. Two Democrats who are up for re-election this year, Alaska's Mark Begich and Arkansas's Mark Pryor, voted against every single one of the post-Sandy Hook gun amendments proposed in the Senate. Five more Democrats who are up this year voted against the assault weapons ban, including purple-staters Mark Warner and Mark Udall. They'd opposed the president; surely, this was going to buy them some peace with the NRA.
It didn't. As Alec MacGillis pointed out two weeks ago, before Ebolamania, even the Democrats who went easy on gun safety are getting the pariah treatment from the NRA. In Arkansas, the NRA got behind Pryor's challenger, Representative Tom Cotton.
The NRA has actually endorsed every opponent to the Democrats who opposed the assault weapons ban, with one exception. It's giving Begich a pass. But it's not endorsing him – Begich's votes to confirm Elena Kagan and Sonia Sotomayor to the Supreme Court disqualified him before he did anything else.
So what did the Democrats get for punting on a surgeon general nominee? They sort of, kind of deflected attacks on one of their endangered senators, while broadcasting huge weakness to the NRA and validating Republican attacks on the administration for trying to sneak past "radical" nominees. There's caution, and then there's plain bad strategy. Guess which column this fits into.