7 Things Chris Christie Is Tired of: A Timeline
The New Jersey governor has a long history of expressing his impatience.
By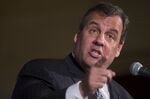 Has any politician in recent memory been as tired as often as New Jersey Governor Chris Christie? That's not to say that the prospective 2016 candidate for president suffers from narcolepsy; rather, he often finds himself expressing how fed up he is on a wide-ranging number of issues.