Businesses Find a Bulwark Against Minimum Wage Hikes
By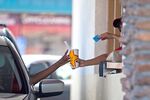 As minimum wage increases sweep across cities from Seattle to Washington, D.C., business have finally found a place from which they can push back: San Diego.
In mid-August, the city council overrode a mayoral veto and raised San Diego's minimum wage to $11.50, to be phased in over three years. But on Monday local lawmakers put the pay increase on hold after business opponents gathered enough signatures to put the issue before voters—in 2016.
During the summer, even before the wage increase became law, the business community started an effort to repeal the pay increase via a voter referendum. The effort attracted the attention and support from national trade groups. "They have seen an opportunity in San Diego to stop this that they haven't had in other cities," Jason Roe, the mayor's political consultant, who headed the San Diego Small Business Coalition, told me back in August.
The coalition needed to collect almost 34,000 verified signatures to put the referendum on the ballot, and the petition drive became a brutal fight. Raise Up San Diego, which supports the wage increase, says that signature-gatherers hired by wage-increase opponents misled voters about the purpose of the petition. The pro-wage hike group  created a website, TheyLiedToMe.net, to tell people how to rescind their support for the petition. Almost 2,700 people requested to have signatures removed from the petition, far more than is typical, according to the San Diego Union Tribune.
Supporters of the referendum said they had a "zero tolerance" policy should any of their hired petition gatherers provide misinformation. Despite the signature revocations, the petition efforts succeeded by submitting more than the  required number.
The first stage of the minimum-wage increase was supposed to kick in next year, and it's too late to get the referendum on the midterm elections being held next month. That means the wage hike will be on hold until the next citywide vote, which will accompany California's June 2016 presidential primary balloting. If voters support the measure at that time, the minimum wage will immediately jump up to $11.50, without intermediate steps.
Before it's here, it's on the Bloomberg Terminal.
LEARN MORE