Led Zeppelin Isn't Actually Losing the Stairway to Heaven Lawsuit
By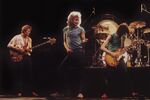 If you're a Led Zeppelin fan feeling concerned in recent days that band seems to be losing a lawsuit over the authorship of Stairway to Heaven, don't be alarmed. Contrary to a flurry of headlines, Jimmy Page and company actually haven't suffered defeat in the first round of the copyright-infringement case. Led Zeppelin might even be winning.
As Bloomberg Businessweek reported in a feature story from May, Led Zeppelin faces a suit in the U.S. District Court for the Eastern District of Pennsylvania that alleges parts of the 1971 hit were filched from an obscure song by the band Spirit. The suit was filed by a Philadelphia-area lawyer representing the trust of the late Spirit guitarist, Randy California.
In September, Led Zeppelin's lawyers filed a motion to dismiss the suit or move it to California, saying Philadelphia isn't an appropriate venue. The Randy California trust then re-filed its complaint earlier this month with arguments to support its choice of venue, including the contention that if Led Zeppelin can sell music in Philadelphia, it can show up in court there, too. Two days later, Judge Juan Sanchez issued an order denying Led Zeppelin's request to dismiss or move the case—and creating the impression, on first glance, that he had dealt a blow to the rock legends.
In fact, the judge's order is essentially an invitation to Led Zeppelin's team to take their best shot at knocking the suit out of Philly. The judge denied the motion, he wrote, "without prejudice to reassertion as to Plaintiff's Amended Complaint." Translated from legalese, that means: Go ahead and ask me again to dismiss or move the case in light of the new arguments about Philadelphia. Next move, Zeppelin.
If it ever does go to trial, the crux of the claim is that, to many ears, the opening notes of Stairway to Heaven sound a lot like Taurus, an instrumental piece released on Spirit's debut album in 1968. At the end of that year and through 1969, Spirit and Led Zeppelin shared the bill at several concerts.
In the meantime, however, the latest delay in determining the suit's fate may ensure that Led Zeppelin's planned Oct. 28 re-release of the album that contains Stairway to Heaven can go off without legal interference.
Before it's here, it's on the Bloomberg Terminal.
LEARN MORE