Iraqi Kurds Set to Reinforce Kobani as Turkey Relents
Aziz Alwan, Selcan Hacaoglu and Salma El Wardany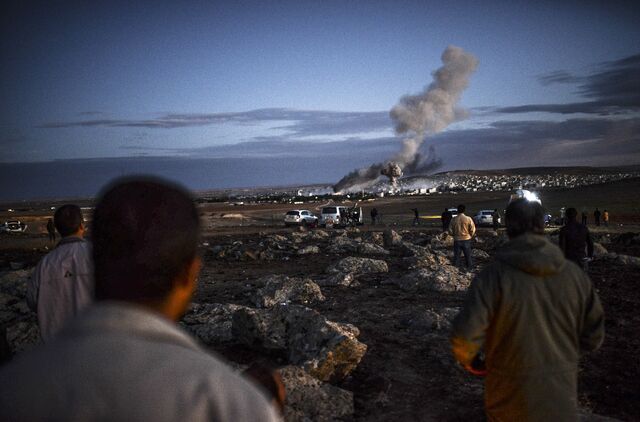 Iraqi Kurdish fighters are set to reinforce the defense of Kobani, the Syrian town besieged by Islamic State, after Turkey agreed to let them transit its territory.
It wasn't immediately clear when the fighters, known as Peshmerga, would arrive or how many would cross the border. A small group may be deployed "within a few days," Erbil-based Rudaw News Agency reported, citing Fuad Hussein, chief of staff to the president of the Kurdistan Regional Government, as saying. Turkish Prime Minister Ahmet Davutoglu said yesterday that talks were continuing on the arrangements.
Kurdish fighters in Kobani have held off Islamic State militants for weeks with increasing support from the U.S., which has focused airstrikes on the town and dropped supplies for its defenders. Islamic State, the al-Qaeda breakaway group that already holds a stretch of territory on the Turkish border, is fighting to expand its self-declared caliphate in Iraq and Syria.
The Turkish government had resisted supporting the Kurdish forces because of their links with a separatist group fighting for autonomy in Turkey. It relented this week, announcing on Oct. 20 it would allow the Peshmerga to cross into Syria through Turkey.
The reinforcements will bring heavy weapons requested by Kobani's defenders and retain control of their use, Hussein was cited as saying.
Rival Kurds
Syrian Kurdish leaders said there was no agreement on the deployment. "When contacts are made with the Peshmerga, only then will we agree on how the fighting will happen," Enwer Muslim, a senior official in Kobani, said.
Clashes raged overnight in several districts of the town, according to Muslim and the U.K.-based Syrian Observatory for Human Rights, which monitors the country's civil war.
The town's defenders "need heavy weapons and armored vehicles to help us in our fight," said Ismet Sheikh Hasan, a senior military official in Kobani.
Muslim said that any assistance should be coordinated with the Syrian Kurds, who have carved out an autonomous region as the government of President Bashar al-Assad lost control over much of Syria during a 3 1/2-year civil war.
Kurdish Rivalry
The Iraqi and Syrian Kurds have been rivals in the past, and have competed for influence in northern Syria, according to Nihat Ali Ozcan, an analyst at the Economic Policy Research Foundation in Ankara.
The main Syrian Kurdish group is linked to the Kurdistan Workers' Party or PKK, a separatist group classified as a terrorist organization by Turkey and the U.S.
Turkey, which has close economic ties with the Iraqi Kurds, has come under U.S. pressure to help defend Kobani, and violent protests broke out among its own Kurdish minority over the government's perceived reluctance to get involved.
"Turkey does not want the PKK to claim victory in Kobani on its own, and is allowing the Peshmerga to join the fight," said Ozcan.
Before it's here, it's on the Bloomberg Terminal.
LEARN MORE