S. Africa Starts Moving Rhinos to Safe Zones to Cut Poaching
Rene Vollgraaff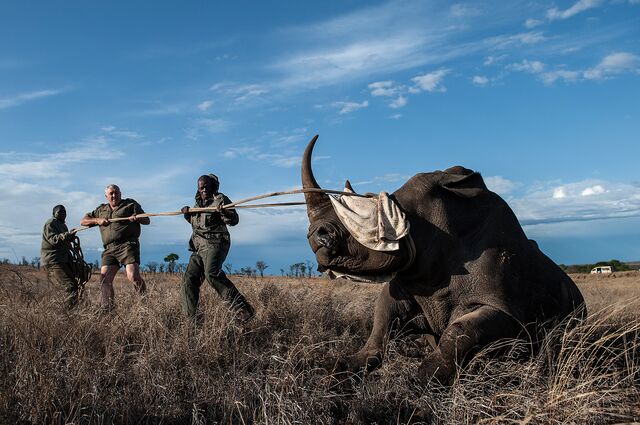 South Africa has started moving rhinos from areas of heavy poaching in the Kruger National Park to parts of the reserve where they can be protected to combat a surge in illegal killings of the endangered animals.
Last week, 20 rhinos were moved, said Gerry Swan, chairman of the South African National Parks conservation and tourism committee.
"We expect to translocate more rhino out of poaching hot spots of the Kruger National Park by the end of October and on possible occasions in November," Swan said in an e-mailed response to questions late yesterday. "The greater numbers of rhinos to be translocated from the poaching hotspots within Kruger will, however, take place in 2015."
Poachers killed at least 769 rhinos this year in South Africa, home to most of the world's population of the animals, and last year slaughtered a record 1,004. The cabinet approved the relocation of white rhinos from the Kruger National Park to secret sites within the country and across its borders, Environmental Affairs Minister Edna Molewa announced in August.
A population survey last year showed that there are between 8,400 and 9,600 rhinos in Kruger, which is the size of Israel. Rhinos are also found elsewhere in South Africa.
About 1,500 were moved from Kruger between 1997 and 2013, mainly to alleviate population pressure. South African National Parks also plans to auction some rhinos to private owners who will need to meet certain security and conservation criteria.
Rhino horns are prized in China and Vietnam, where they are ground into powder and thought to cure diseases such as cancer. The horn, made of a substance similar to human hair known as keratin, is more valuable by weight than gold.
Namibia is dehorning some of its rhinos to deter poachers while other strategies considered have been the injecting of horns with dye or poison.
Most rhinos in South Africa are white rhinos, the bigger of the two types of the animal found in Africa. They can weigh more than 2 metric tons.
Before it's here, it's on the Bloomberg Terminal.
LEARN MORE