Rand Paul Calls for 'Quarantine' of Countries Struck by Ebola
The doctor offers his prescriptions for addressing crisis and repealing parts of Obamacare.
By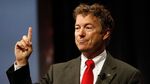 Rand Paul, who is one of many potential Republican presidential candidates in 2016 but the only ophthalmologist in Congress,  suggested to his fellow doctors and medical professionals Monday that it might be a good idea to "quarantine" countries struck by Ebola.
"If quarantine works within a country, maybe countries should be quarantined for a certain period of time," he said to applause at the Chicago convention of the American Academy of Ophthalmology. "We could still send medical supplies and help to them, but if they're coming to visit their cousin or their aunt, couldn't they wait a couple months?"
The junior senator from Kentucky also said he'd like to see commercial flights from African countries struck by the epidemic blocked from entering the U.S.  – though there are very few commercial flights from the region.
The Obama administration has focused more on "spin" than "being honest about what's going on," Paul said. The president is wrong to say you "can't catch Ebola on a bus," he said. "If they are systematic, you can," he said. "If they vomit on you, you can."
U.S. residents shouldn't panic, Paul said, but they also need to look seriously at the risks presented by the disease. "We are talking about something that is exponentially, probably, more transmittable than AIDS," he said. "It is exponentially more infectious."
Asked later whether he thinks Ebola will play a significant role in next month's midterm elections, Paul downplayed its potential as a single issue, calling it just "one more example" of Obama's failed leadership.
Most of Paul's remarks focused on the state of health care, at one point contrasting Obamacare with communism.  "When prices are set by a central planner, inevitably mistakes occur," he said. "The Soviet Union failed for the simple reason that they couldn't determine the price of bread."
"There wasn't anything inherently wrong with medicine in our country" before the passage of the Affordable Care Act, he said.
Asked whether Obamacare could be repealed, Paul said it's unlikely if Republicans gain only a slim majority in the Senate. But he said he does think there is a good chance that the medical device tax could be repealed and that medical savings accounts could be expanded.
In his only mention of a potential 2016 bid, Paul flirted with the crowd by alluding to his own background. "Maybe it's time for a doctor to fix the problem," he said.