Russia Rating Cut by Moody's on Sluggish Economic Growth
Ye Xie, Elena Popina and Daria Solovieva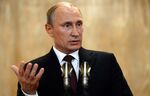 Russia's ruble dropped along with sovereign bonds after the country's credit rating was cut to the second-lowest investment grade by Moody's Investors Service amid sanctions over Ukraine.
Moody's downgraded the sovereign one level to Baa2 from Baa1 and kept a negative outlook on the rating on Oct. 17. It is in line with Fitch Ratings Ltd.'s credit grade and one step above Standard & Poor's, which lowered Russia to BBB- in April. The yield on the nation's March 2030 Eurobond rose six basis points to 4.88 percent. The ruble weakened 0.7 percent to 41.0500 versus the dollar as of 4:31 p.m. in Moscow.
Russia has spent $13 billion from its foreign reserves this month to slow the ruble's weakening as tumbling oil prices add to the woes of an economy that's teetering toward recession amid U.S. and European Union sanctions. President Vladimir Putin and European negotiators are struggling to hold together a six-week truce in eastern Ukraine, inching forward in talks to prevent the fighting from escalating.
"Deteriorating sentiment is weighing more on the ruble after Moody's rating cut," Vladimir Miklashevsky, a strategist at Danske Bank A/S in Helsinki, said by e-mail today.
The downgrade isn't "really critical" because it maintains Russia's investment-grade status, Vladimir Osakovskiy, chief economist for Russia at Bank of America Corp. in Moscow, said by phone yesterday.
Reserve Drain
The currency is under pressure as penalties block companies from western debt markets and deepen Russia's economic slump, while oil trades near four-year lows. The interventions have drained almost $60 billion from Russia's foreign reserves this year. The Bank of Russia sold $2.12 billion on Oct. 16, according to a website statement today.
The downgrade is driven by "Russia's increasingly subdued medium-term growth prospect," Kristin Lindow, an analyst at Moody's Investors Service Inc., said in a phone interview on Oct. 17. "The gradual and ongoing erosion of the country's international reserve buffer" contributed to a weakening of Russia's creditworthiness, she said.
Almost half the time, government bond yields fall when a rating action suggests they should climb, or they increase even as a change signals a decline, according to data compiled by Bloomberg on 314 upgrades, downgrades and outlook changes going back as far as 38 years. The rates moved in the opposite direction 47 percent of the time for Moody's and for S&P. The data measured yields after a month relative to U.S. Treasury debt, the global benchmark.
No Breakthrough
The extra yield investors demand to own Russia's dollar-denominated government bonds due in September 2023 instead of similar Treasuries has increased as the U.S. and its allies accuse Russia of inciting the rebellion in eastern Ukraine, an allegation Putin denies. The spread was 2.86 percentage points today, compared with an average of 2.16 since the notes were sold 13 months ago, according to data compiled by Bloomberg.
Foreign Minister Sergei Lavrov said Russia will refuse to accept conditions to end sanctions after talks in Italy failed to produce a breakthrough to bolster a truce between separatists and government troops in eastern Ukraine.
"The fact that nothing changed after the Milan talks is weighing on the market," Vadim Bit-Avragim, who helps oversee about $4 billion in assets at Kapital Asset Management LLC in Moscow, said by e-mail. "The leaders met, talked but didn't come to any agreements, there was no breakthrough. I don't think sanctions will be lifted anytime soon."
Market-Call Reversals
Banks are making brisk market-call reversals amid steep swings in Russian stocks as investors react to developments in Ukraine. Morgan Stanley advised clients to buy Russian equities seven weeks after cutting the country to sell on Oct. 17, the same day JPMorgan Chase & Co. said Russian stocks are likely to extend declines. Russia's Micex stock index fell 0.6 percent to 1,377.02 today.
"Wall Street's banks don't have a single consensus,'" Kirill Yankovsky, director of equity sales at Otkritie Capital Ltd. in London, said by phone on Oct. 17. "Investors don't know either."
Russia won't spend all of its $451.7 billion in reserves defending the ruble, Putin said on Oct. 17.
"Bank of Russia, on the one hand, will pursue balanced financial policies," Putin told reporters on the trip to Milan. "That means that it will use elements of a floating exchange rate and won't mindlessly burn up all its reserves. But there's enough reserves to adjust the level of the national currency."
Downward Pressure
Moody's could cut the rating further if the Ukraine crisis escalates and tougher sanctions are applied, according to the statement.
"Russia's rating would also come under downward pressure from a prolonged period of low commodity prices, given the lack of progress on economic diversification," it said.
Moody's expects Russia to fall into a recession in 2015 for the second time since 2009, contracting 1 percent after growing 0.5 percent this year, Lindow said. The International Monetary Fund predicts a growth rate of 0.5 percent next year.
"The rating remains investor grade," former Russian finance minister Aleksei Kudrin said on his Twitter account on Oct. 18. "Further downgrades may be extremely negative for the financial market."
Before it's here, it's on the Bloomberg Terminal.
LEARN MORE