Forensic Evidence Said to Support Ferguson Police Shooting Story
Anna Edney and Del Quentin Wilber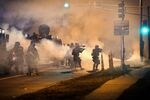 Forensic evidence may corroborate accounts by police in Ferguson, Missouri, that teenager Michael Brown was involved in a scuffle with an officer before he was shot and killed, according to a law enforcement official with knowledge of the investigation.
The evidence examined as part of a federal probe shows that the 18-year-old's blood was on an inside panel of the police car and on the officer's gun, which was fired twice inside the vehicle, said the official, who asked not to be identified without authorization to speak publicly. The information, first reported by the New York Times last night on its website, came from forensics tests performed by the Federal Bureau of Investigation.
Police have maintained Brown attacked the officer, Darren Wilson, which led to the shooting. Wilson has told investigators he was pinned in his vehicle and in fear for his life as he struggled over his gun with Brown.
Police accounts are at odds with reports from some witnesses who said that Brown was shot while raising his hands to surrender.
Brown's killing ignited racially charged protests in Ferguson where the police were criticized for using military-style tactics. The U.S. Justice Department started a civil-rights investigation into Ferguson's police department to examine the practices that led to the August shooting.
A county grand jury is considering the St. Louis County Police Department's report of the shooting and will decide whether to bring criminal charges against Wilson, Sgt. Brian Schellman, a police spokesman, said today.
Schellman said he couldn't discuss evidence in an active investigation. County prosecutor Robert McCulloch has said he expects the grand jury to reach a decision by mid-November; he didn't immediately respond to requests for comment sent today.
Before it's here, it's on the Bloomberg Terminal.
LEARN MORE