The Pentagon Gets Into the Cashmere Business
In Afghanistan, a U.S. program tries to replace drugs with luxury
By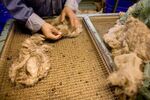 Last year, as for most of the past 20, Afghanistan was the world's leading grower of opium poppies. Thanks to a record harvest, the United Nations' drug monitoring agency says Afghan farmers produced 80 percent of the global supply of the plants, the key ingredient in heroin, in 2013.
The U.S. has spent $7.6 billion since 2002 trying to eradicate poppy fields, to little effect. Now, with American combat troops preparing to leave at the end of the year, the U.S. government has a different plan: turn Afghanistan into the next cashmere powerhouse. "There's pretty much always a demand for every ounce of cashmere," says Karl Spilhaus, president of the Cashmere and Camel Hair Manufacturers Institute, a Boston-based trade group. "Everybody would welcome an increase from Afghanistan."
The country is already the third leading supplier of the ultrafine wool used to spin cashmere, ranking behind only China and Mongolia. Fashion retailers have expressed interest for years in selling Afghan cashmere—and Kate Spade did for a while—but less than 30 percent of the wool from the country's 7 million cashmere goats is harvested, according to the U.S. Department of Defense. "It's good quality cashmere," says Spilhaus, "but they really haven't been up to date on their husbandry practices, for obvious reasons."
Luxury producers spend most lavishly for white cashmere, because it can be dyed any color. Afghan goats tend to have dark wool, which typically sells for less than half as much as paler blends. To make the cashmere plan work, Uncle Sam needed more than a business plan; it needed a supergoat.
In 2012, the Pentagon awarded Colorado State University's College of Agricultural Sciences a $1.5 million grant to help Afghan herders breed such animals. The school's team of agricultural scientists sourced nine bucks from a farm in Italy's Chianti region and airlifted them into Herat to mate with Afghan goats in western Afghanistan. The first 100 kids were born this spring. They were sturdy, compliant, and—critically—pale.
So far, they've all lived. "The Afghans' biggest fear was that we were going to bring some soft, wimpy foreign goats that wouldn't be able to survive," says Kraig Peel, a Colorado State professor of animal science who worked on the breeding program. (A Texan who grew up on a cattle ranch, he helped raise Angora goats before moving into academia.) Peel's colleague Ajay Jha, who was in charge of the breeding, estimates it will take five years for the supergoats to make their way into herds across the country, a task that's being handed off to local shepherds.
The country has only a few de-hairing facilities. Most of the wool is shipped to India for processing and spinning. And the Defense Department task force that set up the breeding program is disbanding at the end of the year, putting the onus on the Afghan government to build an industry. "The question is, have they learned something that they can replicate without two things, money and talent?" says Christopher Preble, vice president for defense and foreign policy studies at the conservative Cato Institute. "Sometimes the answer is yes, but not always."
The Pentagon and its consultants have been pitching the wool at trade shows and to luxury brands such as Hermès and Loro Piana. In July, Combat Flip Flops, a sandal and apparel company started by two Army Rangers who served in Afghanistan, launched a crowdsourcing drive to raise money to produce an inaugural batch of shemagh headscarves using wool from the Afghan herd.
The Pentagon put the company in touch with a facility in India working with Afghan cashmere and the first finished batch of scarves was delivered in October. Combat Flip Flops wants eventually to move production to Afghanistan. "We've gone after small wins over and over," says company co-founder Matthew Griffin. "Our hope is we can get them into a store like Nordstrom or Macy's."
BOTTOM LINE -
The bottom line: A Pentagon plan to build Afghanistan's cashmere industry required the U.S. government to import Italian goats.
Before it's here, it's on the Bloomberg Terminal.
LEARN MORE