Hate-Watching Hillary
Inside the Republican machine scrutinizing Clinton's every word.
By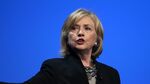 Hillary Clinton is drawing large, cheering crowds at virtually every stop as she campaigns for Democrats in the midterm elections. Back in Washington, another audience is equally engrossed, though much less enraptured, by her every word.
While Clinton rallied voters Wednesday night in Kentucky, Republicans in the capital monitored her appearance on a livestream broadcast. Inside the Louisville convention center, a GOP campaign tracker recorded video of Clinton hand-in-hand with Senate candidate Alison Lundergan Grimes in front of a backdrop of red, white, and blue lights. When the event was over, the watchers were ready.
"Hillary didn't mention Mitch once. Odd strategy in GOP state," tweeted Tim Miller after Clinton's Wednesday appearance with Grimes, who is trying to unseat Senate Minority Leader Mitch McConnell. Miller is the executive director of America Rising PAC, a Republican research group stockpiling ammunition to use against Clinton and her allies during the 2014 election and, he hopes, the 2016 presidential.
Though the former secretary of State is months away from announcing whether she'll make a second bid for the White House, a whole industry is already defining her image. At least 10 groups list defeating Clinton as their primary mission, according to a review of Federal Election Commission filings, and Democrats say they're preparing for as much as $500 million in spending on attack ads during the 2016 election aimed at her. Her allies have created their own organization to push back, an effort run by longtime supporters but technically unaffiliated with Clinton.
In event after event, Republicans record Clinton's statements, scrutinize them for any gaffes, and bank footage. The stream of midterm jabs hint at the onslaught that could come later. Republicans see these individual strikes as building blocks for a larger message that generally falls along three major themes: Clinton is too rich, too disconnected, and too much like Obama.
"The more Americans have seen Hillary Clinton over the past year, they less they've liked her," said Kirsten Kukowski, a spokeswoman for the Republican National Committee, referencing polling that shows Clinton's approval rating falling over the past few months. "Clinton has only reinforced how out of touch she is and how many vulnerabilities she still has in the run up to 2016."
Both the attackers and defenders are political canaries, testing early messages to see what sticks. It's not an easy task: Clinton has been a fixture of American political life for more than two decades. Most voters already have strong opinions about her tenure as first lady and senator, never mind her husband's. Her decision to formally re-enter the political fray on behalf of Democratic congressional candidates, though, is creating fresh material and opportunities to define her after her popular stint at the State Department.
"It's an opportunity to gather ammunition," Miller said. "The more that she is out on the campaign trail owning the record of the Democratic Senate majority and the Obama administration over the last six years, the more we'll be able to use in 2016."
Clinton's midterm schedule is part of her gradual transition from diplomat to private citizen to candidate after a six-year absence from campaigning. The appearances give her a chance to try out campaign themes, even audition potential speech lines. 
Last week in Pennsylvania, she delivered her most partisan remarks since leaving the State Department, praising the Democratic Party, "which stands for families, stands for working people, stands for fairness and justice." On Monday in Colorado, she stopped at a coffee shop and cracked a joke about pot, touching on a controversial issue that's certain to be asked of presidential candidates next year. Still on her schedule are stops in Michigan, Rhode Island, and a number of other states.
In Kentucky, she presented herself as an advocate for working families, offering a strident defense of the health care plan, raising the minimum wage, and equal pay for women. "I believe with all my heart no one who works hard every day should have to end up still living in poverty," she said. "Not in this state, not in this country."
Since leaving Obama's Cabinet, she's made more than 100 appearances, and her adversaries have watched every one they could. In event after event, Republicans record Clinton's statements, scrutinize them for any gaffes, and bank footage.
And they're not targeting their responses solely to conservatives.
A speech last month by Lloyd Blankfein, CEO of Goldman Sachs, at last month's annual meeting of the Clinton Global Initiative prompted the RNC to blast out video of Blankfein joking about his long relationship with the Clintons, a message more likely to resonate with liberals worried about Clinton's ties to Wall Street. In August, Republicans condemned her for skipping Netroots Nation, an annual gathering of Democratic activists, to go on a book tour.
"Never miss an opportunity, right now, to frame her accurately and hold her accountable with voters who are going to be active all the way to 2016," said Kevin Madden, a Republican strategist who worked on Mitt Romney's presidential campaigns. "We're no longer in a 24-hour news cycle, we're in a 24-second news cycle."
So far this week, Republicans have attacked Clinton for the $225,000 speaking fee she was paid to address an annual dinner hosted by University of Nevada, Las Vegas Foundation, a non-profit that raises money for the school. (Clinton has said she donated the fee to her family's foundation.) They circulated images of the private plane Clinton and her husband took to a campaign event in Iowa, after Bloomberg Politics reported that state Democrats paid $50,000 for the couple's transportation. They jumped on comments by Grimes, who has refused to say if she voted for Obama, with a chart that showed similarities between Clinton and Obama's views. And the RNC got media attention for a political comment on the 404 error page of their website: "What do Hillary Clinton and this link have in common? They're both 'dead broke.'"  
The majority of the assault has been left to America Rising, an opposition research firm formed after the 2012 campaign by former Romney campaign staffers. On their website, they post images and videos of their barbs in hopes of taking them viral. To reporters, they shoot a regular torrent of Clinton criticism into in-boxes.
Still, Clinton remains popular - recent polling shows her approval rating lower than her State Department days but still positive - making her a tougher target on the campaign trail. Even McConnell avoided attacking her this week, pivoting quickly to Obama, a much easier mark with an approval ratings at 40 percent.
"We're good friends. She's doing what candidates for president do," McConnell said of his former Senate colleague in an interview with NBC News. He added: "One thing I think is noteworthy: Alison Grimes doesn't have any trouble announcing she voted for Hillary Clinton, even though, apparently, she doesn't want to say she voted for Barack Obama."
Clinton has her own machinery focused on rebutting the attacks. Correct the Record, a project of the super-PAC American Bridge, is officially charged with defending all Democratic candidates against Republican attacks, but they've largely focused on Clinton, said spokeswoman Adrienne Elrod. On Monday, as Republicans attacked Clinton for her speaking fees at UNLV, Correct the Record responded with comments from graduates praising her.
"The truth of the matter is she's the only one who's really getting attacked," said Elrod, an Arkansas native and long-time Clinton backer. "They're trying to throw the kitchen sink at her."
It's a feeling shared by Clinton supporters. After her Kentucky speech, the crowd poured out of the convention hall, passing vendors selling "First Dude" and "Hillary 2016" buttons. The activists were fired up for the November election, but perhaps even more excited for the one after that. "I'm a Hillary girl," said Missy Harris, a 49-year-old letter carrier in Louisville. "And she's going to need a lot of support."
Lynn McCrary, a retired speech pathologist, said the attacks only motivate Clinton backers. "The Republicans are just trying to pull any old thing out on here," she said, as she walked out toting a sign that read "Shatter the Glass. Break the Ceiling."
"They are fearful of Hillary because they know she wields a lot of power."