Howard Schultz Serves Spiritual Caffeine at a Huge Meeting for Starbucks Managers
By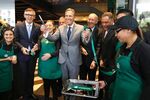 It may feel like a routine of pouring coffee and steaming milk, but working at Starbucks is way, way more than that. That was the message from Starbucks Chief Executive Howard Schultz to about 2,100 Starbucks district managers at a global leadership event this week. Each attendee is responsible for a group of stores.
The gathering in Seattle included a lot of coffee and a no small amount of noncaffeine pep, too. The stakes are high: Starbucks is pursuing at least 10 percent revenue growth and 1,600 new stores globally in the next fiscal year. The company has been holding these conferences since 1996, and Schultz said during an earnings call in July that recent meetings "directly contributed to the record results we reported in 2013 and now are exceeding in 2014."
The Starbucks boss is known to emphasize passion in leadership, and maintaining some control over corporate culture gets tricky in a chain that's grown to more than 20,800 stores. So what was Schultz's message? Here are some highlights posted on Twitter.
First, the managers have to care: Starbucks is really important, and they are part of something big.
It's about a lot more than coffee—it's about "performance driven through the lens of humanity."
Working for Starbucks comes with great responsibility. Lind of like being Spider-Man.
And here Schultz sums up what he thinks Starbucks culture is really about.
Preachy? Attendees seemed to be moved by it anyhow.
Before it's here, it's on the Bloomberg Terminal.
LEARN MORE