CDC Director: Ebola 'Not a Significant Public Health Threat'
Alex Wayne and Kathleen Hunter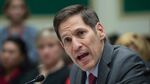 Republican lawmakers sharply criticized the U.S. Centers for Disease Control and Prevention's response to the Ebola outbreak as agency director Thomas Frieden said the virus is not a "significant public health threat."
"People's lives are at stake and the response so far has been unacceptable," Representative Fred Upton, a Michigan Republican, said today as a hearing began in Washington. "People are scared. We need all hands on deck. We need a strategy."
Frieden sought to allay public and lawmaker concern after a Liberian man visiting Dallas died last week and two nurses who treated him became the first people infected in the U.S. Complaints have mounted over the agency's response to the outbreak, and two Republican lawmakers this week called for him to quit.
"We remain confident that Ebola is not a significant public health threat to the United States," Frieden said in written testimony submitted before he appeared before a panel of the House Energy and Commerce Committee. "We know Ebola can be stopped with rapid diagnosis, appropriate triage and meticulous infection-control practices in American hospitals."
Infection Controls
Lawmakers generally avoided partisan sniping, although Democrats including Representative Henry Waxman of California suggested recent budget cuts pushed by Republicans may have left federal officials unprepared to combat the virus. Representative Diana DeGette, a Colorado Democrat, said the CDC response "has had problems" and said she appreciated Frieden's "transparent approach and quick response to acknowledge uncertainties and problems."
Republicans were most vocal in criticizing the agency and calling for a ban on travel from the region to the U.S.
"Mistakes have been made," said Representative Tim Murphy, a Pennsylvania Republican and head of the oversight panel. "The trust and credibility of the administration and government are waning as the American public loses confidence each day with demonstrated failures of the current strategy."
Upton called for immediate travel restrictions on West African countries most affected by the outbreak of the deadly virus. The administration has instead implemented enhanced screening at five U.S. airports that account for 94 percent of travelers from three nations with the most Ebola cases.
'Other Places'
"If we try to eliminate travel, the possibility some will travel over land, will come from other places we don't know where they're coming in," Frieden said at the hearing. "We won't be able to check them for fever when they leave. We won't be able to check them for fever when they arrive. When they arrive we won't be able to impose quarantine."
The three nations -- Sierra Leone, Guinea and Liberia -- are already checking passengers at airports. Frieden said 74 people who showed a fever at airports in West Africa were prevented from boarding international flights.
Hospitals in the U.S. caring for Ebola victims need to appoint a full-time individual who is responsible for overseeing infection control, Frieden said.
The two nurses who contracted Ebola "demonstrate the need to strengthen the procedures for infection-control protocols which allowed for exposure to the virus," he said.
Infection Controls
The CDC has sent infection-control experts to Texas Health Presbyterian Hospital in Dallas where two nurses became infected after treating Thomas Eric Duncan, who died of Ebola on Oct. 8 after flying to the U.S. from Liberia last month, he said.
Two Republican U.S. House members, Pete Sessions of Texas, who represents Dallas, and Tom Marino of Pennsylvania, yesterday called on Frieden to resign.
National Nurses United, a labor union, has said nurses at Texas Health Presbyterian Hospital weren't provided sufficient protective gear until Duncan was confirmed to have Ebola, two days after he was admitted with symptoms. The hospital said today in a statement that nurses who treated Duncan "wore the appropriate personal protective equipment as recommended by the CDC at the time."
Lawmakers asked about a second nurse who was infected, Amber Vinson, who flew from Cleveland to Dallas the evening before she reported symptoms of the virus. The agency said she had called and reported a fever before boarding the flight, but wasn't told to avoid flying. The agency said the fever was below the threshold the CDC considers at risk.
Commercial Flight
"None of us can understand how a nurse who treated an Ebola-infected patient, and who herself had developed a fever, was permitted to board a commercial airline and fly across the country," Upton said.
Frieden said the agency shouldn't have allowed the nurse to fly.
Both nurses have left Dallas and are being treated in specialized centers near Washington and in Atlanta.
The CDC's recommendations for handling Ebola patients have changed since Duncan was admitted. Frieden testified that the agency now recommends that hospitals limit the number of health workers who interact with Ebola patients to "an absolute minimum" and that only "essential procedures" be performed.
The agency is also "examining the issue of personal protective equipment," he said. Some workers at Texas Health wore multiple layers of protection, he has said, inadvertently complicating the disrobing process and raising their risk of exposure.