Renzi Plan to Shake Up Labor Market May Help Italy Recovery
Chiara Vasarri and Andre Tartar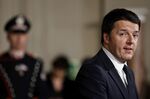 Italian Prime Minister Matteo Renzi's struggle to reshape the nation's rigid labor markets may not be in vain.
While the proposed changes won't be in place until next year at the earliest, more than three-quarters of respondents to a Bloomberg News survey of 14 economists and analysts said the plan will give oxygen to an economy that hasn't grown for the last three years.
Renzi is battling labor unions and politicians both from the opposition and within his own party as he tries to push through reforms to repair the jobless market in a country with youth unemployment at a record 44 percent. The 39-year-old ex-mayor of Florence is also counting on his actions to attract investments and reduce what is Europe's second-largest debt.
"In the draft of the reform there are some aspects that could have positive impacts on the economy," said Nicola Nobile, an economist at Oxford Economics who previously worked at the Center for Research on the Public Sector at Bocconi University. "Developments in the following months will be crucial to see how Renzi will deal with some of the opposition within the coalition and labor unions and if this will have any consequences in the final version."
Sacred Cow
Renzi's efforts to overhaul the labor market were praised by leaders including German Chancellor Angela Merkel at a summit in Milan Oct. 8.
"We see the courageous efforts of Italy to break through on the labor market," private equity executive Charles Dallara, former chief of the Institute of International Finance, said in an interview in Milan today.
While the Italian premier is trying to convince European peers to spend more creating jobs, he faces his main challenge at home, where he still has to gain the support of trade unions and a left-leaning minority of his party. They oppose plans to change the Article 18, the sacred cow of the labor code, which makes it difficult for companies with more than 15 employees to fire workers with open-ended contracts.
Workers Protection
Some critics have said Renzi's "Jobs Act," which also includes broad-brush plans to cut the number of short-term contracts and simplify the labor code, lacks essential details.
The proposed changes, approved by the Senate in a confidence vote last week, are part of a so-called delegating bill that sets the reform guidelines and gives the government six months to detail and enact the measures via decrees.
Fabio Fois, an economist at Barclays Plc in London, said while the introduction of a single open-ended contract should be seen as major progress, "the reform as it stands is incomplete."
In an OECD ranking, Italy ranks second in Europe in terms of worker protection from collective dismissal.
While the bill doesn't clarify how the government plans to modify Article 18, Renzi has said he wants to maintain workers' rights to be reinstated only in case of discriminatory dismissals and some disciplinary firings. He wants it eliminated for layoffs for economic reasons. This has prompted CGIL union leader Susanna Camusso to call a demonstration in Rome Oct. 25 to protest the plan.
Renzi is being "scrutinized by capital markets and EU peers," Francesco Galietti, founder of researcher Policy Sonar in Rome, said in a note this week. He "needs to show that he is serious about delivering reforms."
Before it's here, it's on the Bloomberg Terminal.
LEARN MORE