Lawyer's Only Job Hope in Spain: Hospital Orderly
Angeline Benoit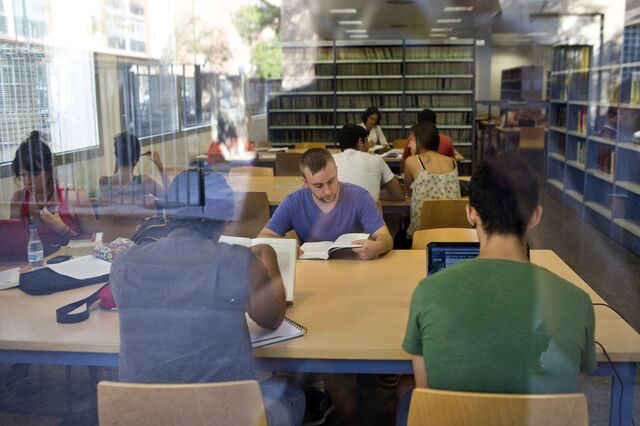 Alberto Gracia earned the first law degree in his family six years ago. Since then, he's worked briefly as a lawyer and mostly as a video-store clerk, flower-seller or ticket-puncher. Now he's found a career he thinks will stick: hospital orderly.
He's finished 545 hours of online courses on the Spanish medical system, learning about hygiene, medical equipment and hospital-room layout. While it's a far cry from torts and contracts, he expects his new profession -- unlike the law -- to lead to steady, full-time work in his home town of Zaragoza.
"I want to stop waking up every day to this obsession of searching for a job, this constant feeling of guilt whenever I do anything else," said Gracia, 30, as he stood near the campus of the University of Zaragoza, gazing across the green lawn to the modern building where he spent countless hours studying. "Sometimes I even regret I studied law."
The campus was teeming with young people who had come to take the law-school entrance tests, fresh out of high school and full of hope. Their chances of getting hired by a firm after graduation are little better than Gracia's, according to Miguel Angel Aragues, who manages the local lawyers' association.
Amid the damage from the European Union's economic slump, Gracia's dashed career hopes highlight a post-crisis challenge: How to help the 32 percent of youth across the continent who are forced to work on temporary, short-term contracts -- almost twice the proportion of those who are unemployed.
In Spain, about half of employees under 30 have settled for that type of job. As in Gracia's case, that can mean a career below their qualifications.
'Structural Worsening'
"This lost generation includes more educated, advantaged or middle-class young people than any previous one," said Robert MacDonald, a sociologist at Teesside University in the U.K. and an editor at the Journal of Youth Studies, in a telephone interview. "The recession deepened a structural worsening in young people's prospects all over Europe."
The hurdles that young Spaniards face to join the labor market are widespread in the 28-member EU. Weak job creation is forcing them to accept lower wages in positions where they can be let go at will -- in countries where labor law protections enable those in protected classes to stay on for life.
"Youth unemployment may stay high, or not drop as much as other measures of unemployment, because of policies such as high minimum wages and high non-wage costs such as social security contributions," said Mark Keese, head of the employment analysis and policy division at the Organization for Economic Cooperation and Development in Paris. "Strict rules on hiring and firing can limit the appeal of hiring young people."
Deeply Divided
In Spain, the gap between youth and the rest of the labor force has widened even as Prime Minister Mariano Rajoy's government in 2012 sought to make it cheaper and simpler for companies to fire more protected staff.
"The labor market is deeply divided between workers whose jobs are strongly protected and workers whose jobs are precarious or insecure," said Luis Ortiz Gervasi, a sociologist at Pompeu Fabra University in Barcelona. "Access of young people to stable, permanent jobs is more difficult than in other countries."
Short-term contracts account for 92 percent of new jobs created in Spain over the last 25 years. Those who work under those terms have far fewer labor protections than people -- usually older -- who have long-term positions.
EU leaders have yet to make good on their pledge last year to boost funds to combat youth joblessness, declining at an Oct. 8 summit to add new resources. The chances that growth will boost jobs are slim, as Germany's economy is stalling, France is flat and Italy returned to recession this year. In Spain, the economy completed its first year of growth since 2007 in the second quarter -- but unemployment is barely improving.
Underemployed Youth
"Fewer and fewer people are going to live better or even as well as their parents, the banking crisis has accelerated that trend," said Ken Roberts, a sociology professor at the University of Liverpool, in the U.K.
As the labor force increases faster than the positions available, every generation includes a larger portion of underemployed young adults. They rotate between joblessness and spells of employment, sometimes part-time, sometimes combined with education or training, Roberts said.
It wasn't what Gracia envisioned when he won a university scholarship, a government grant available to low-income families that required a minimum level of grades each year to be extended. The payoff was an internship with one of his town's top legal practices before he graduated in 2008. That led to a job in a law firm. It ended after 18 months when the firm closed.
Video Games
Gracia calculates he's been jobless for 24 months in total, and was only entitled to benefits for half that time. As his calls and applications to law firms were ignored, he started going for any offer. Of the 15 jobs he's had in six years, selling video games part-time, for 650 euros ($832) a month, was one of the best, he said. At other times, all he could find was a weekend of punching tickets for 140 euros. Other positions included selling flowers and telephone subscriptions.
"I've learned to prepare myself for disappointment," he said, picking a bench by the pond where he and his friends used to gather in the evenings after classes. The last letdown was in March, when he got a call telling him, without explanation, that he'd been fired from the video store.
Gracia said he was the number-one salesman there, where he'd worked on five different occasions for a total of about 18 months. "It doesn't seem to matter how well I do, how hard I try, it's just not helping me keep a job."
More Competition
As education levels surge, job competition is toughening throughout Europe. Between 1995 and 2012, enrollment in post-secondary education in all Europe increased by 54 percent, UNESCO data show.
In most European countries, social security and banking rules make it hard for people without stable employment to access housing and financing. The issue is becoming acute for young adults, said Heejung Chung, labor market researcher at the University of Kent, in the U.K.
"That won't improve unless there's a serious policy change," she said. "Already, before the crisis, as the supply of young people exceeded demand, many had to accept positions with greater insecurity, lacking the chance to build up social rights or proper wage levels."
In Spain, even before the crisis, educated, low-earning young people were called "mileuristas" -- someone who takes home 1,000 euros a month. At the height of the real-estate boom, in 2006, when the economy grew 4.2 percent, 52 percent of people under 30 still had short-term employment.
More Lawyers
Before the downturn, the legal profession was already getting harder to join. The number of registered lawyers more than tripled over the last 30 years, said Aragues, the lawyers' association chief. "The volume of business hasn't grown as fast and the crisis came on top," he said. "It was the straw that broke the camel's back."
In Zaragoza, about halfway between Madrid and Barcelona, lawyer Santiago Palazon says his office is starting to hire for the first time in several years -- at a very slow pace. "Since last year, we've taken on four people, including a young graduate we let go because we can't afford someone who isn't very productive."
In a cafe on Plaza San Francisco, one of Zaragoza's best-known squares, Gracia's father, Inaki, says he left school at the age of 15 to be a waiter and to farm, and has never failed to find work. He's been an apartment-building doorman for more than 10 years. His son, who sometimes replaces him during vacations, says he'd be happy to do the same.
Feeling Angry
"I feel angry about what's happening to my son and to my friends' children," said Inaki, 55, adjusting the straw hat protecting him from the sun. "Such talented people, and they can hardly hope to rent a flat. It's outrageous."
Ten months ago, as both approached their 30s, Gracia and his partner of seven years decided not to let financial uncertainty deter them from setting up house any longer. They're scraping by with his savings, income from her private lessons and babysitting and occasional help from their parents.
Tall and athletic, Violeta Dominguez was taekwondo champion in the Aragon region twice. The 29-year-old has been waiting since her graduation in sports in 2010 for the local government to open a contest to hire gym teachers.
In a restaurant near the plaza, the pair was thrilled as they pored over the menu. "We hardly ever eat out," said Dominguez, with an embarrassed smile. In July, they left Zaragoza for a holiday together for the first time, camping for five days in the north of Spain.
Avoiding Depression
"We can't even begin to think about getting married or having children," said Gracia. "I'm not asking for much -- enough to pay the rent, fill the fridge, go to the movies from time to time, that's it."
Without his friends, partner and family, Gracia says he might have sunk into depression. "When you think about it coldly, you see how you've studied, how hard you're looking, doing every job as well as you can, and there is simply no reward -- well it's discouraging."
In those moments, Alberto says his father's words come back to mind. There is a plan B if the hospital profession doesn't work out, he said: his grandparents' house and vegetable patch in the family's home village. "That's already paid for so at least we won't go hungry."
Before it's here, it's on the Bloomberg Terminal.
LEARN MORE