business
Baidu Embraces Artificial Intelligence to Build a Better Search Engine
The Chinese giant embraces AI to compete with Google
Edmond Lococo and Brian Womack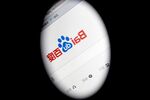 In China, Baidu isn't just the dominant search engine, it's a source of national pride. In other countries, the company can't rely on its home-field advantages—most notably the absence of Google, which pulled its servers out of mainland China in 2010 after tangling with the government over censorship. Worldwide, Google controls 49 percent of Internet advertising revenue, generating sales last year that were more than 10 times Baidu's $5.2 billion. Baidu is available around the world, but more than 99 percent of its revenue comes from China. "Baidu's search engine isn't as serious as Google or even Bing," says Guo Chenggang, an analyst for brokerage ITG. Baidu spokesman Kaiser Kuo says that's "absurd on its face," citing the company's work on versions in Japanese, Portuguese, Arabic, and Thai. "We're dead serious about providing the best search experience possible in every market where we operate."
Robin Li, Baidu's co-founder and chief executive officer, has boosted spending on research and development 85 percent, to 1.74 billion yuan ($284 million), in the second quarter from the same period a year earlier. (Despite the leap, that's about a tenth of what Google spent on R&D in its second quarter.) In May, Li turned heads by hiring Andrew Ng, a renowned computer scientist and expert in robotics and machine learning, as Baidu's chief scientist. Ng now oversees the company's growing research into a subfield of artificial intelligence known as deep learning, which aims to improve search results and computing tasks by training computers to work more like the human brain. "Whoever wins artificial intelligence will win the Internet in China and around the world," says Ng. "Baidu has the best shot to make it work."

Deep-learning research has become a much bigger deal for search companies in the era of smartphones and tablets, where Baidu lagged behind for years. Producing accurate searches based on voice commands and digital photos requires hardware and software that can learn to recognize objects, understand context, and make connections as a person would. Before he co-founded Coursera, which provides online courses from top universities to almost 10 million users, Ng, who remains a professor at Stanford, helped lead Google's deep-learning project in 2011. The Google team assembled about 16,000 computers that they configured to approximate neural networks of the human brain. The equipment gradually trained itself to recognize a cat based on millions of screen shots from YouTube videos, and Google applied some of the lessons to its voice recognition software.
At Baidu, Ng oversees about 140 researchers across three labs: In May, Baidu opened an AI research center in Sunnyvale, Calif., and a data analysis lab in Beijing, where the company opened a deep-learning facility last year. He says the Baidu team is connecting enough computers to generate 100 times the simulated neural activity of his Google project when it's completed early next year. Already, Baidu's deep-learning research has helped cut the error rate of its speech recognition software by 25 percent, Ng says, and the work may help improve its image recognition or generate more relevant ads for users.
Given Baidu's influx of programming talent, massive collection of data on search behavior, and R&D budget, the company "has a real opportunity to become a major player in new technologies such as artificial intelligence," says David Riedel, president and founder of equity analyst Riedel Research Group. "This is an area where Baidu can really differentiate itself from others." Yoshua Bengio, a professor of computer science at the Université de Montréal, says a breakthrough in intuitive search engine design would be a big advantage.
Google says it welcomes the competition. "We're in a machine-learning renaissance," says spokesman Jason Freidenfelds, adding that Google is training networks with more than 1,000 times the capacity Ng worked with there. "Lots of groups are getting great results with deep neural nets."
Baidu hasn't been shy about following Google into other areas. In September it introduced Baidu Eye, a camera headset that can snap images of a product in a store and use a connected smartphone to call up reviews or compare prices via text or an earpiece. The data it generates is mostly useful as a way to study consumer behavior, says Kirk Boodry, an analyst with New Street Research.
Whether deep learning can help Baidu escape Google's shadow will depend on just how transformative its advances are, says Andy Chun, an artificial-intelligence researcher and chief information officer for the City University of Hong Kong. "For Baidu to be a real technology force, it will need to show us something that wows us," he says. "And not 'me too.' "
(
Corrects to remove Ng paraphrase in the final paragraph.
)
Before it's here, it's on the Bloomberg Terminal.
LEARN MORE