Warhol Marilyns Unsold at $24 Million Phillips' U.K. Sale
Mary Romano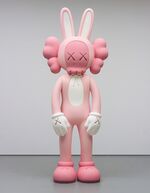 Phillips tallied a less-than-expected 14.9 million pounds ($23.8 million) at its contemporary art sale coinciding with London's Frieze week as major works by Andy Warhol and Gerhard Richter failed to sell.
The evening auction at Phillips, which took place yesterday in its new London home on Berkeley Square in the wealthy Mayfair neighborhood, fell short of the company's low estimate of 15.5 million pounds as 37 of the 46 offered lots found buyers.
Warhol's 1986 "Four Marilyns" silkscreen, estimated at 1.2 million to 1.8 million pounds, didn't find a taker. Nor did Richter's 1985 abstract canvas "U.L.," which the auction house had valued at 1.5 million to 2 million pounds.
Clients from New York who were interested in the Warhol decided to pass because they hadn't seen it in person, Michael McGinnis, president of Phillips, told reporters after the auction. The portrait of Marilyn Monroe has a black background with four images of the actress that look like a photo negative.
"They were resistant to buying without standing in front of it," McGinnis said. "I'm sure I'll be making a private sale when I bring it back to New York."
The Richter didn't sell because bidders may be worried that prices for his work are losing steam after his "Netz," a red, yellow and green abstract painting estimated at as much as 10 million pounds, failed to find a purchaser at Christie's sale in London on Oct. 13. "Netz" was sold after the auction to a private U.S. collector for 5.5 million pounds, Christie's said.
'Spooked People'
"It spooked people and that had an impact on this result," McGinnis said.
Edward Dolman, chief executive officer of Phillips, said in an interview after the auction that he was "very happy" with the sale.
"There was solid bidding and 80 percent of the lots sold, which is very respectable," Dolman said. "I don't think this is a sign of market weakness. We had two works that were more expensive that failed to sell for understandable reasons."
Two other works by Warhol didn't find takers. "Untitled (The Ambassador's Wife)," a 1982 silkscreen double panel, was estimated at 300,000 to 500,000 pounds. "Guns," a 1981 silkscreen of two weapons, had a range of 500,000 to 700,000 pounds.
Christopher Wool's untitled 1990 alkyd and acrylic image of black birds on aluminum was the top lot as it sold for 2.1 million pounds, near the high end of its predicted range. Damien Hirst's dots on canvas from 2007 fetched 578,500 pounds, beating its low estimate of 550,000 pounds. Banksy's 2006 submerged telephone booth under rocks, which is made of metal and acrylic glass, sold for 722,500 pounds, surpassing its high estimate of 500,000 pounds.
Pink Creature
A fiberglass resin sculpture of a pink creature with outsized rabbit-like ears by the Brooklyn, New York-based artist Kaws sold for 266,500 pounds, beating its estimate of 150,000 to 250,000 pounds. It set an auction record for the artist, whose previous mark of 181,658 pounds was reached at Sotheby's in New York in May, according to Phillips.
Tauba Auerbach's 2010 pale canvas with an assortment of creases sold for 1.14 million pounds, slightly surpassing her previous peak.
Phillips is owned by Moscow-based Mercury Group.
Before it's here, it's on the Bloomberg Terminal.
LEARN MORE