Does an MBA Matter to Shareholders?
By and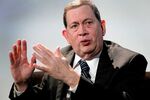 Most of the top business leaders in the world do not have MBAs, according to a report released Tuesday, Oct. 14, by the Harvard Business Review. The magazine ranked chief executives on how much return their company's shareholders earned on their investment and how much the CEOs increased their companies' market values during their tenure.
Just 29 of the 100 best performers had MBAs, and fewer than half of the executives with MBAs got their degree from the most elite business schools. Thirteen of the 29 have MBAs from the 10 programs ranked highest by Bloomberg Businessweek.
Harvard Business School produced seven of the highest-performing CEOs on the list, the most of any MBA program. The findings suggest that becoming the most valuable CEO, from the perspective of shareholders, might have less to do with whether or not you have an MBA and more to do with having the smarts and skills to lead a company.
Almost a quarter of CEOs on the list—24 of 100—had engineering degrees. (Eight had both MBAs and engineering degrees.) Why did engineers do so well, even when they led such nontech companies as brewing giant Anheuser-Busch InBev or insurance company Sampo?
"Studying engineering gives someone a practical, pragmatic orientation," Nitin Nohria, dean of Harvard Business School, said in the report. "It makes you think about costs vs. performance. These are principles that can be deeply important when you think about organizations."
To Nohria's point, the executive who topped the list, Amazon.com CEO Jeff Bezos, has an engineering degree and no MBA.
The full ranking is on the Harvard Business Review's website. Below is a list of the executives with business degrees, along with their overall rank.
2. John Martin, Gilead Sciences – Edward S. Ageno School of Business
3. John Chambers, Cisco Systems – Kelley School of Business
4. David Pyott, Allergan – London Business School
5. David Simon, Simon Property Group – Columbia Business School
7. Hugh Grant, Monsanto – International Management Center
8. J. Michael Pearson, Valeant Pharmaceuticals – Darden School of Business
25. Michael Balmuth, Ross Stores – George Washington University School of Business
34. Alexander Cutler, Eaton – Tuck School of Business
34. Stephen Luczo, Seagate Technology – Stanford Graduate School of Business
37. Kent Thiry, DaVita – Harvard Business School
38. H. Lawrence Culp Jr., Danaher – Harvard Business School
39. Charles Davidson, Noble Energy – UCLA Anderson School of Management
41. Ulf Schneider, Fresenius – Harvard Business School
44. Michael Ward, CSX – Harvard Business School
46. Carlos Alves de Brito, Anheuser-Busch InBev – Stanford Graduate School of Business
47. Joseph Papa, Perrigo – Kellogg School of Management
49. Philip Pascall, First Quantum – University of Cape Town Graduate School of Business
53. John Hammergren, McKesson – Williams College of Business
58. Jeffrey Sprecher, Intercontinental Exchange – Graziadio School of Business and Management
62. William Rhodes III, AutoZone – Fogelman College of Business and Economics
68. Randall Hogan, Pentair – McCombs School of Business
69. Gregory Case, Aon – Harvard Business School
70. Paul Desmarais Jr., Power Corporation of Canada – INSEAD
74. Lars Rasmussen, Coloplast – Scandinavian International Management Institute
75. George Weston, Associated British Foods – Harvard Business School
78. Ed Heffernan, Alliance Data Systems – Columbia Business School
84. Eric Wiseman, VF – Wake Forest University School of Business
92. Michael Kowalski, Tiffany – Harvard Business School
93. John Finnegan, Chubb – Rutgers Business School
Before it's here, it's on the Bloomberg Terminal.
LEARN MORE