Harry Reid Has His Fingerprints All Over Alaska's Senate Race
BuzzFeed co-founder and the NFL's Houston Texans owner drop big money on Senate races.
By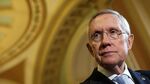 There are some degrees of separation involved, but Alaska Democratic Senator Mark Begich should thank Harry Reid if he manages to win re-election in 20 days.
A state-based super-PAC that's raised and spent about $8 million boosting Begich and attacking Republican challenger Dan Sullivan is almost entirely underwritten by another super-PAC run by the Senate Majority Leader's political brain trust.
The pro-Begich outfit, Put Alaska First PAC, raised $2.5 million in August and September, according to a filing it made Tuesday with the Federal Election Commission. The Reid-aligned PAC, Senate Majority PAC, provided $2.4 million of that in 15 different installments.
Put Alaska First PAC has run ads attacking Sullivan's opposition to abortion rights and touting Begich's ties to Alaska and his vote for the Affordable Care Act.
The financial ties linking Reid and Begich run counter to Begich's campaign strategy of distancing himself from the Senate majority leader and national Democrats in a state that President Barack Obama lost by 14 percentage points in the 2012 election. Begich has been promoting his political independence as Republicans seek to link him to Obama.  Alaska SalmonPAC, funded by national and state environmental groups, also is backing Begich. 
Republican outside groups spending millions attacking Begich and aiding Sullivan include Alaska's Energy America's Values, a super-PAC that received $500,000 last month from Bob McNair, the CEO of the NFL's Houston Texans.
Super-PACs are permitted to raise funds in unlimited amounts to air so-called independent expenditures. They are required to operate independently from the candidates, and federal officeholders can't solicit big checks for them.
Candidates for the House and Senate, plus PACs that report on a quarterly basis, are required to file updated campaign finance reports by midnight Wednesday. National party committees and PACs that file on a monthly schedule will submit their next reports by Oct. 20.
Here's a look at some other major disclosures by super-PACs Wednesday:
* Georgia: A super-PAC aiding Democratic Senate candidate Michelle Nunn received $350,000 of $443,500 in the third quarter from Michael Bloomberg, who is founder and principal owner of Bloomberg News parent Bloomberg LP.  Nunn is running against Republican David Perdue for the open seat of retiring Senator Saxby Chambliss. A Survey USA poll showed Nunn ahead, 48 percent to 45 percent. If neither candidate gets more than 50 percent of the vote on Nov. 4, they will advance to a Jan. 6 runoff. 
* New Hampshire: A super-PAC opposing Democratic Senator Jeanne Shaheen received $500,000 from McNair, who's also a major benefactor of an outside campaign to re-elect Senate Minority Leader Mitch McConnell in Kentucky. Former Massachusetts Senator Scott Brown is opposing Shaheen. The anti-Shaheen super-PAC, Independent Leadership for New Hampshire PAC, also received $50,000 from a super-PAC that aided Mitt Romney's 2012 presidential campaign.
* South Dakota: Larry Lessig's anti-corruption Mayday PAC took in $250,000 from former Stride Rite executive Arnold Hiatt and $100,000 from BuzzFeed co-founder John Johnson. It's helping South Dakota Democrat Rick Weiland, who is running in a four-way Senate race that has recently shifted from a safe Republican pick-up to a highly competitive brawl. 
* Iowa: Robert Mercer, a frequent Republican donor who leads a New York-based hedge fund, sent $500,000 last month to B-PAC, a super-PAC that's opposing Democratic Senate candidates Bruce Braley in Iowa and Gary Peters in Michigan. Braley is in a very close race with Republican Joni Ernst, while Peters appears to be pulling away. A pro-Ernst super-PAC received $500,000 from McNair. 
* The Kochs:  This cycle billionaire brothers David and Charles Koch are doing something new with their vast political network: Cracking one part of it open for the world to see. Today they filed an FEC report for Freedom Partners Action Fund, a super-PAC the group founded in June. It pulled in $15 million -- including two, $2 million checks from David Koch and Charles Koch. James Davis, a spokesman for the group, said that the brisk fundraising pace puts the organization on track to spend $25 million in the Senate races this year -- up from their previous projection of $18 million. The Kochs weren't the largest donors to their organization, that prize goes to Mercer, who wrote a check for $2.5 million. Other seven-figure checks came from Diane Hendricks of Wisconsin, the chairwoman and founder of American Builders & Contractors Supply Company; Clarence Werner of Omaha, Nebraska, the founder of a eponymous trucking company; and Ronald Cameron of Arkansas, a poultry farmer who was the first donor to the super-PAC.
* House: Congressional Leadership Fund, a super-PAC working to expand the House Republicans' majority, took in $3.4 million in the third quarter, led by $1 million from Chevron. Congressional Leadership Fund also received $500,000 from billionaire investment company executive Paul Singer and $350,000 from wrestling company executive Linda McMahon.