Merkel No-Deficit Dogma Means No Stimulus for Germany
Alessandro Speciale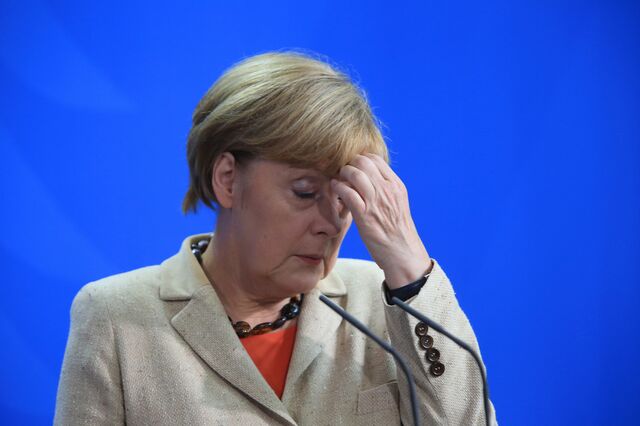 Germany is resisting stimulus even as it faces the threat of recession.
Some of the weakest data since the global financial crisis have stoked concern that Europe's largest economy has shrunk for two consecutive quarters. That's not enough for Chancellor Angela Merkel, who says the government won't boost short-term spending to restore growth, just as Bundesbank President Jens Weidmann argues against the latest euro-area stimulus by the European Central Bank.
Merkel is hemmed in by her election pledge to enforce fiscal prudence to avoid a repeat of Europe's debt crisis. With German politicians criticizing other euro-area nations for not following suit, that's a hard message to change -- even as the downturn feeds into a stalling regional recovery that's boosting calls for the ECB to start buying government bonds.
"The pressure on Berlin is now rising incredibly," said Karsten Junius, chief economist at Bank J Safra Sarasin AG in Zurich. "For Germany, fiscal policy would definitely be better than quantitative easing. Germany has the budgetary room to maneuver and should use it."
With yields on German government debt near record lows, financing an investment package would probably be affordable. The two-year bond yield was at minus 0.06 percent and the 10-year at 0.82 percent today. Instead, the hurdle is political.
No Change
Merkel won a third four-year term last year on a platform that included a promise to balance the books for the first time since 1969. She plans to cut federal net new borrowing to zero next year from 6.5 billion euros ($8.2 billion) in 2014.
At a closed-door meeting of her Christian Democratic Union-led bloc in Berlin yesterday, she vowed to pursue that aim even in the face of the worsening economic outlook, according to a CDU official who asked not to be named because the session was private.
German gross domestic product shrank 0.2 percent in the second quarter, setting it up for the two quarters of contraction that is typically defined as a recession. After a strong July, industrial output, factory orders and exports all plunged in August by the most since January 2009.
Yet even with the government cutting its 2014 and 2015 economic growth forecasts yesterday, Merkel's finance minister says Germany isn't in recession and it's not time to change tack on spending.
"We can stick to our budget plan," Wolfgang Schaeuble told reporters in Luxembourg yesterday after a meeting of European Union finance ministers. "We're agreed in the German federal government that we must stay the course even in difficult times."
ECB Stimulus
The risk is that the German economy becomes too feeble to help revive the euro area's recovery, pushing ECB President Mario Draghi to act on his pledge to take further measures if needed, including QE.
That would raise hackles in Germany. Members of the country's major political parties have criticized the ECB's latest plan, to buy asset-backed securities and covered bonds, on the grounds that it imposes risk on taxpayers. Weidmann raised the same objection in the ECB's Governing Council and has argued that too much monetary stimulus weakens the incentive for structural reforms.
While Draghi also insists on reforms, he wants countries to complement his loose monetary policy by using the "fiscal space" under EU rules. Countries with low budget deficits such as Germany are allowed some room to boost spending.
Dogmatic View
In contrast, France has asked for patience on its deficit, which will rise to 4.4 percent of GDP this year and won't shrink to the EU limit of 3 percent before 2017. The euro-area's second-biggest economy is due to send its 2015 budget plans today for consideration by the European Commission in Brussels.
"Maybe it's not the best idea to absolutely insist on this balanced budget," Clemens Fuest, president of the ZEW Center for European Economic Research, said yesterday after its gauge of investor confidence in Germany fell to the lowest level since November 2012. "This is a positive signal within Germany of solidity. It's not necessarily the best signal EU-wide because other countries in the EU see this as dogmatic."
The German reluctance to react to the economic dip immediately may yet be vindicated. August data were influenced by summer factory closures and the Economy Ministry's revised projections still predict full-year GDP growth. The ministry cut its 2014 outlook to 1.2 percent from 1.8 percent, and its 2015 prediction to 1.3 percent from 2 percent.
Schaeuble has said he's willing to shift his priorities to investment if necessary, without saying he'd consider running a budget deficit. German state premiers meet today to discuss their own calls for infrastructure spending, with Merkel planning to attend.
"There is a need for more investment in broadband and road construction, but there is no need to run up a deficit," Michael Fuchs, the deputy parliamentary leader of Merkel's CDU/CSU, said in a phone interview. "There are times when it makes sense to save money."
Before it's here, it's on the Bloomberg Terminal.
LEARN MORE