Baghdadis Stay Put in Belief Islamic State Can't Take City
Aziz Alwan and Zaid Sabah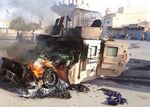 Each morning Majdi al-Dabbagh listens to the news to figure out if Islamic State is any closer to Baghdad. He has an escape route south planned for his family if the jihadist group manages to storm the Iraqi capital, yet sees no immediate need to flee.
"I'm afraid of hearing headlines saying that Da'esh are clashing or fighting in the streets of Baghdad," the Sunni Muslim resident of the eastern Baladiyat neighborhood said in a phone interview, using the Arabic acronym for Islamic State. "All Baghdadis are scared right now. But in general, life is still normal."
By staying put, al-Dabbagh is betting that Baghdad will be better defended than cities such as Mosul, seized by Islamic State after it routed the Iraqi army during a lightning advance across the north in June. Analysts say he's probably right, with enough government forces and allied Shiite militias amassed around the capital, and backing from U.S. warplanes, to prevent an outright assault by the Sunni militant group.
"Baghdad isn't Mosul and is the hardest domino to knock over," Ramzy Mardini, a Jordan-based non-resident fellow at the Atlantic Council research group, said in an e-mailed reply to questions. "To overtake Shiite territory, especially a major city like Baghdad, the Islamic State would need far more military power than it has."
Shiite Checkpoints
There are about 120 Iraqi battalions stationed around the capital, according to Abdul Kareem Khalaf, an Iraqi military analyst and former interior ministry spokesman. While numerical superiority didn't help the Iraqi army in Mosul, the mostly Shiite force faces less opposition from the public in Baghdad, and will get more support from irregulars.
On the outskirts of Baghdad, Shiite militias have set up checkpoints where masked men in black with automatic rifles stop and search vehicles. The largest groups include the Peace Brigade of cleric Moqtada al-Sadr and the League of the Righteous linked to Qassem Suleimani, head of foreign operations for the Iranian Revolutionary Guards.
Islamic State doesn't need to overrun Baghdad like it did Mosul in order to cause havoc there.
Hundreds of people have died in a spate of suicide bombings in the capital in recent weeks, some claimed by Islamic State, including Oct. 11 attacks that killed more than 43 people in the Shiite Shula and Kadhimiya districts. At least 10 people died in three seperate bombings in the city today, according to the interior ministry.
Airport Threat
In Sunni-dominated areas of Iraq, Islamic State can behave like a military institution, seizing territory and governing it, while in Shiite regions the bombings reflect a different set of options, Mardini said. He said that the group may select Baghdad airport as a target with "both strategic and symbolic value," given that it probably can't take over the whole capital.
The airport is on Baghdad's western edge, near to areas such as Abu Ghraib, which are already under attack by Islamic State. The threat to the airport was sufficient for the U.S. to mobilize Apache attack helicopters to secure it, Joint Chiefs Chairman General Martin Dempsey said in an ABC interview broadcast Oct. 12, without specifying when it happened.
West of Baghdad, in Anbar province, is where Islamic State made its initial breakthrough early this year with the capture of Fallujah.
After seizing Mosul and declaring a caliphate in territory it holds straddling the Iraq-Syria border, Islamic State returned its attention to Anbar and began to expand there. It controls about 80 percent of the mostly Sunni province after gains over the past three weeks, according to Faleh al-Issawi, deputy head of the provincial council.
How Long?
"Islamic State entered areas where they had supporters," said Khalaf, the Iraqi military analyst, in an interview. "Eighty percent of Baghdad doesn't support Islamic State. There are sleeper cells in some areas of western Baghdad but they won't make a big difference."
"Baghdad is more secure today than any time before," Prime Minister Haidar al-Abadi said yesterday on state television. Pentagon spokesman Rear Admiral John Kirby told reporters that "Iraqi security forces are stiffening themselves around Baghdad, and Baghdad remains secure."
The city of 7 million, founded in the eighth century, was the capital of the Abbasid Caliphate. It has suffered almost unbroken violence since the U.S. invasion of 2003, which was followed by a Sunni-Shiite civil war.
"There are moments of escalation and now seems to be one of those," said Raffaello Pantucci, director of International Security Studies at the London-based Royal United Services Institute.
Car Bombs
Islamic State, previously known as ISIS and ISIL, carried out 641 operations including car bombings and targeted killings in the city in 2013, up from 371 operations in 2012, according to the Washington-based Institute for the Study of War.
Many Baghdadis say the militias set up to defend the capital are also a potential threat, acting with impunity and adding to tensions.
Ahmed Abdul Minem, a 35-year-old shopkeeper, said he wasn't leaving the city, but he had a question: "How long are we are going to live like this?"
Before it's here, it's on the Bloomberg Terminal.
LEARN MORE