Wells Fargo Profit Meets Estimates as Mortgage Revenue Drops
Elizabeth Dexheimer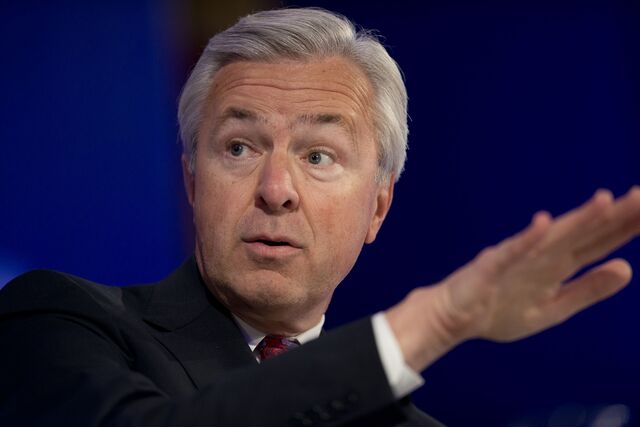 Wells Fargo & Co., the biggest U.S. home lender, posted a third-quarter profit that matched analysts' estimates as fees from mortgage banking fell and lending margins narrowed.
Net income rose 2.7 percent to $5.73 billion, or $1.02 a share, from $5.58 billion, or 99 cents, a year earlier, the San Francisco-based lender said today in a statement. That met the average estimate of 25 analysts surveyed by Bloomberg.
Chief Executive Officer John Stumpf, 61, faces slackening demand for mortgages as the housing market shifts away from a refinancing boom that propelled profits in earlier years. With interest rates still near record lows, Wells Fargo's net interest margin, a measure of profitability, has declined to the lowest in at least two decades.
"Net interest margins will go up when interest rates rise, the question is how do you bridge the gap between now and then?" Jennifer Thompson, an analyst at Portales Partners LLC, said in an interview before results were announced. "It has to be loan growth."
Wells Fargo slid 2.7 percent to close at $48.83, the lowest since April, after dropping as much as 4 percent. The shares have gained 7.6 percent this year, the best performance in the 24-company KBW Bank Index.
Revenue Climbs
Third-quarter net interest margin fell to 3.06 percent, below the 3.13 percent average estimate of analysts surveyed by Bloomberg.
Revenue increased 3.6 percent to $21.2 billion from $20.5 billion a year earlier, beating the $21.1 billion average estimate of analysts in the Bloomberg survey.
"Our balance sheet has never been stronger, with higher levels of capital and liquidity, and improved asset quality," Stumpf said in the statement. "We also remain well positioned to benefit from higher rates in the future."
Mortgage banking revenue in the third quarter declined 5.2 percent to $1.63 billion from the preceding three-month period, according to the statement. That missed the $1.74 billion estimate of Chris Mutascio, a New York-based analyst at Stifel Financial Corp.'s KBW unit. Mortgage banking revenue increased 1.6 percent from last year's third-quarter, Wells Fargo said.
"The last five years have been a real heyday for the mortgage-banking world," Paul Miller, an FBR Capital Markets analyst, said today in a Bloomberg Radio interview. "The next year or two is going to be more of a struggle."
Interest Rates
Mortgage refinancings that once fueled profits at the biggest U.S. banks have slowed as interest rates rose from historic lows. Wells Fargo accounted for about 16.3 percent of U.S. home loans in the second quarter, compared with 15.9 percent in the first three months of 2014, according to data compiled by Bloomberg.
Mortgages for new home purchases may climb to $195 billion by next year's third quarter, from $115 billion in this year's first quarter, according to estimates from the Mortgage Bankers Association. Residential originations at Wells Fargo rose by $1 billion since the second quarter to $48 billion as the bank's gain on sale margin, a measure of profitability, increased to 1.82 percent from 1.41 percent.
Earlier today, JPMorgan Chase & Co. reported a $5.6 billion third-quarter profit, compared with a year-earlier loss, as a surprise gain in fixed-income trading at the biggest U.S. bank helped boost revenue. Citigroup Inc., the third largest bank, said profit rose 6.6 percent as bond-trading revenue and lending improved.
Before it's here, it's on the Bloomberg Terminal.
LEARN MORE