Merkel Vows Austerity Even as Growth Projection Cut
Brian Parkin, Rainer Buergin and Patrick Donahue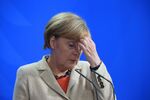 Chancellor Angela Merkel told lawmakers that Germany won't raise public spending to stimulate the economy even after her government slashed growth forecasts for this year and next, a party official said.
Europe's biggest economy will probably grow by 1.2 percent this year and by 1.3 percent in 2015, marking respective drops from 1.8 percent and 2.0 percent forecast in April, the Economy Ministry said today.
Merkel, addressing a closed-door meeting of members of her Christian Democratic Union-led bloc in Berlin today, vowed that her government will pursue its balanced budget goal regardless of the outlook, according to the CDU official, who asked not to be named because the session was private.
"We're agreed in the German federal government that we must stay the course even in difficult times," Finance Minister Wolfgang Schaeuble told reporters in Luxembourg today after a meeting of European Union finance ministers.
A separate party official who attended the Berlin meeting told reporters later that Merkel said it's more important than ever for the EU to hold to its rules and that Germany's stance is crucial. If Germany deviates from its fiscal position, it would give other countries a reason to do likewise, she said.
"This, in a word, is silly: Germany should borrow money and invest in infrastructure to boost growth," Fredrik Erixon, director of the European Centre for International Political Economy in Brussels, said by phone. "Merkel and others have invented a story about how Germany always had an austere budget. Yet in postwar history, Germany has repeatedly shown far more fiscal policy flexibility to lift growth."
'Rough Waters'
Economy Minister Sigmar Gabriel said exports are "in extremely rough waters," buffeted by geopolitical developments including the Ukraine crisis, according to an e-mailed statement. The Social Democrat, whose party is the junior partner in Merkel's government, urged the coalition to boost infrastructure spending to underpin demand.
The latest forecasts suggest that Merkel's plan to balance the budget to the last euro cent may be in doubt unless the economy grows faster. Merkel snubbed calls earlier this month from euro-area partners and the International Monetary Fund to spend more to stave off weakening growth. Gabriel said he still expects the government to balance its books, though the economic growth reduction "will have an impact" on the budget, he said today at a press conference in Berlin, without being more specific.
Forecast Cut
The IMF cut its euro-area growth forecasts last week to 0.8 percent for 2014 and 1.3 percent next year. With 40 percent of Germany's exports going to the rest of the 18-nation euro area, the weakness of its currency partners is hitting Germany's industry.
German export data plunged the most since January 2009 in August. The ZEW investor confidence gauge, a prediction of economic development six months ahead, fell today to the weakest level in almost two years. Germany may just avoid recession as the economy shows almost no second-half growth, the country's leading economic institutes said.
German exports may grow by 3.4 percent this year and 4.1 percent in 2015, the Economy Ministry review said, citing projected improvements in global economic growth next year. Exports account for 40 percent of Germany's economy, according to the Federal Statistics Office.
German domestic demand, buoyed by employment that will grow by about 500,000 by the end of next year, will be the main motor for economic growth, the report said.
Heed Warnings
Still, the German government must heed warning signals from the economy, SPD parliamentary Deputy Chairman Carsten Schneider said, cited in today's Sueddeutsche Zeitung newspaper.
If Germany enters recession, the government should prepare a supplementary budget, Schneider said. Such a move would automatically spoil the prospects of balancing the budget.
The situation Germany faces can't be compared with the financial crisis that led to the worst recession in living memory, the official cited Merkel as saying. The reason for the economic cooling is decreasing demand from other countries rather than German coalition policies. It's still important to focus on growth now, especially in the digital economy, she was cited as saying.
Before it's here, it's on the Bloomberg Terminal.
LEARN MORE