Johnson & Johnson Quarterly Profit Rises on Sale of Unit
Michelle Fay Cortez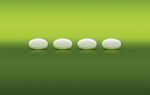 Johnson & Johnson, the world's biggest maker of health-care products, said growing sales of new hepatitis C drug Olysio boosted its 2014 earnings forecast for the third quarter in a row.
Net income rose 59 percent to $4.75 billion, or $1.66 a share, from $2.98 billion, or $1.04 a share, a year earlier, helped by a $1.1 billion gain from the sale of its Ortho Clinical Diagnostics unit, the New Brunswick, New Jersey-based company said today in a statement. Earnings excluding one-time items of $1.50 a share beat by 6 cents the average of 16 analysts' estimates compiled by Bloomberg.
"J&J has done a strong job in executing pharmaceutical launches, with Olysio for hepatitis C and Xarelto, a blood thinner, driving the strong growth we've seen for the pharmaceutical segment," Ashtyn Evans, a health-care analyst at Edward Jones in St. Louis, said in a telephone interview. "While growth is slow in the medical device segment, they did beat expectations."
Olysio's introduction last year led the drug unit to become J&J's biggest. The blockbuster medicine is combined with other drugs as part of a new generation of treatments for the liver infection that do away with side-effect heavy injections. The pill sold $796 million in the third quarter.
Willing to Bargain?
Olysio's success, though, isn't expected to continue at the same pace, Chief Financial Officer Dominic Caruso said in a conference call with analysts. Gilead Sciences Inc.'s rival compound Harvoni was approved last week and will cut into sales.
The hepatitis C drugs are among the most expensive in the world, with a 12-week course of Harvoni costing $94,500. Prescription drug benefit managers like CVS Health Corp. and Express Scripts Holding Co. have been waiting for the introduction of additional competing medicines so they can try and wring discounts from the drugmakers.
Caruso sidestepped a question about whether J&J plans to cut Olysio's price to take on Harvoni, the first all-oral regimen for hepatitis C. He said the company remains committed to the market and indicated a willingness to bargain.
"We plan to remain competitive in the hepatitis C category and we will work with payers to maintain access for Olysio in the marketplace," he said. "Given the size, complexity and diversity of this patient population, we think physicians will continue to need multiple treatment options."
Clearer Risks
The risks to J&J from future declines in Olysio sales and the foreign exchange rates are becoming more clear, said Derrick Sung, an analyst at Sanford C. Bernstein in New York. Olysio contributed 20 cents to the company's earnings per share so far this year, which isn't expected to be repeated next year, he said. Current exchange rates would add another 15 cent to 20 cent challenge to earnings for next year, he said.
"Coupled together, this would imply a 35 cent to 40 cent headwind for J&J in 2015 and suggests to us that Street estimates will need to come down to reflect this," Sung said.
J&J fell 2.1 percent to $97.01 at the close in New York. The shares have gained 8 percent in the past 12 months.
Total revenue increased to $18.5 billion from $17.6 billion a year earlier. J&J raised its adjusted earnings forecast for the year to $5.92 to $5.97 a share, from $5.85 to $5.92 a share.
Prescription drug sales rose to $8.31 billion. Its best-selling medicines continued to post strong growth, with increased demand for medicines including the arthritis drug Remicade, prostate cancer drug Zytiga, blood thinner Xarelto, diabetes drug Invokana and psoriasis treatment Stelara.
Device Sales
The medical device and diagnostic unit, the company's biggest last year, saw sales fall 5.2 percent to $6.57 billion. Sales of consumer goods and over-the-counter medicines, including Tylenol and Motrin, dropped 0.6 percent.
"The consumer business missed slightly, but we do think that over the long-term they will be able to ramp this business back up," Evans said. "That's more of a long-term story."
Net income in the quarter was reduced by special items of $900 million for an increase in the company's litigation reserves, a drug fee charged by the U.S.'s Patient Protection and Affordable Care Act, the integration of Synthes Inc. and costs of running its program for patients with the DePuy ASR Hip.
Before it's here, it's on the Bloomberg Terminal.
LEARN MORE