Brazil Vote Too Close to Call as Runoff Looms, Poll Shows
David Biller and Anna Edgerton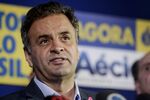 Brazilian President Dilma Rousseff is statistically tied with opposition candidate Aecio Neves less than two weeks before the runoff election, according to a Vox Populi poll published yesterday.
Rousseff garnered 45 percent of support for the Oct. 26 vote, compared to 44 percent for Neves, according to the Oct. 11-12 poll of 2,000 people that has a margin of error of plus or minus 2.2 percentage points. A Sensus poll published Oct. 11 showed Neves with 52.4 percent support and Rousseff with 36.7 percent. The poll had a margin of error of plus or minus 2.2 percentage points.
Candidates are starting to cast doubt on the accuracy of some public opinion polls used by the news media to measure voter preferences before the election. Some polling companies, including Vox Populi and Sensus, do surveys for candidates and their campaigns, as well as for media groups.
"There is a clearly a problem of sampling in surveys," Lucas de Aragao, partner at consulting firm Arko Advice, said at a Bloomberg event today in Sao Paulo, adding that there are "islands" in Brazil where support for one candidate or other is lopsided.
'Any Problem'
Sao Paulo's Ibovespa index today gained 0.6 percent at 3:48 p.m. local time. Yesterday the index surged 4.8 percent, the most among the world's equity benchmarks, after Sensus showed Neves with enough support to win the election. Many investors prefer Neves for his choice of advisers and his party's track record in establishing inflation targeting and a floating currency regime during the two terms of former President Fernando Henrique Cardoso.
Sensus also produces polls for Neves's campaign, according to the company's director, Ricardo Guedes. The company is certain of its methods and results and has a high degree of precision in past and current elections, he said in an e-mail.
"I don't see any problem with polls and campaigns," he said. "Like in the U.S., institutes have their names to preserve, with the best precision in elections."
Vox Populi conducts surveys for Rousseff's campaign, according to a press officer who can't be named because of internal policy.
The Sensus poll came two days after polls by Datafolha and Ibope showed Neves and Rousseff statistically tied. A Parana Pesquisas poll published Oct. 8 showed Neves eight percentage points ahead of the incumbent.
'Our Polls'
"We've asked the electoral court to investigate the veracity" of the Sensus and Parana surveys, Rui Falcao, head of Rousseff's campaign and ruling Workers' Party, told reporters in Brasilia yesterday. "Our surveys show a slight advantage for Dilma over Aecio."
The Vox Populi poll is in line with polls conducted by companies Ibope and Datafolha, both of which were released Oct. 9 and showed a statistical tie, according to polling company Ibope's chief executive officer, Marcia Cavallari.
The Vox Populi survey was conducted after candidates' free television advertising time resumed and the poll may reflect its impact, she said.
"This is the most competitive second round of all the second rounds Brazil has had since 1989," she said.
Parana's office was closed yesterday. A press officer for Vox Populi said the company doesn't comment on the reliability of any surveys.
'Owe Explanations'
Datafolha doesn't conduct polls for parties, politicians or companies, the company's director, Mauro Paulino, said in an e-mail. Ibope has conducted surveys for companies on this year's presidential race, Cavallari said by phone. She said it has conducted polls for various parties at the state level -- not national.
"Some of those polling institutes owe explanations to Brazil," Neves told reporters in Rio de Janeiro on Oct. 10 without naming specific companies.
Rousseff has a 55 percent chance of winning the election, Ricardo Sennes, partner and director at Prospectiva Consultoria, said at a Bloomberg event today in Sao Paulo. She is favored by strong structural elements, he said.
Neves of the Brazilian Social Democracy Party garnered 34 percent support in the first round on Oct. 5 versus 42 percent for Rousseff.
'Wants Change'
Marina Silva, who placed third with 21 percent, on Oct. 12 endorsed Neves's candidacy and said Brazil needs "competent" management and a stable economy. Rousseff says Neves's policy of less government intervention would reduce the role of public banks and jeopardize programs to build subsidized housing.
The senator and former governor pledges to slow inflation to target and stimulate growth, while Rousseff says his policies would threaten gains such as record-low unemployment and falling poverty rates achieved during her term. The Brazilian electorate has shown signs of mixed voting preferences, meaning that the final tally will be very tight, said Christopher Garman, the head of emerging market research at Eurasia Group.
"It's an electorate that wants change," Garman said today at a Bloomberg event in Sao Paulo. "But it's an electorate that also feels it has something to lose."
Before it's here, it's on the Bloomberg Terminal.
LEARN MORE