Why Beijing Never Declares 'Red Alert' Smog Days
Christina Larson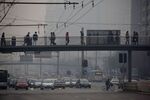 Beijing has a color-coded smog alert system, but its deployment is as much political as technical. According to Beijing's environmental protection bureau, when the "Air Quality Index" (AQI)—a figure derived from real-time measurements of such pollutants as sulfur dioxide, nitrogen dioxide, PM 2.5, and PM 10 (the last two refer to the size of airborne particulate matter)—exceeds certain levels, the city should declare "yellow," "orange," or "red" alerts.
Pollution levels exceeding 300 AQI should trigger red alerts, which in turn would trigger a set of severe precautionary measures to protect public health—including closing primary schools and kindergartens. However, as the independent newsmagazine Caixin observed, that has never actually happened, even on Beijing's smoggiest days.
Last week, Beijing's AQI exceeded 300 on three consecutive days: Oct. 8, 9, and 10. The level of PM 2.5—pollution particles less than 2.5 micrometers in diameter—exceeded the limit deemed "safe" by the World Health Organization by a multiple of 20 on Friday. Visiting Brazilian soccer players chose to stay inside their hotels, rather than risk the health impacts of strolling through thick smog.
And yet, the city never declared a "red alert" or closed schools. Caixin speculated that such measures would be both costly and embarrassing for China's capital, which in recent years has increased efforts to improve air quality. As the newsmagazine put it: "Why is it so hard to declare a red alert? And if it's impossible to declare one, why even have a red alert?" Good question.
Before it's here, it's on the Bloomberg Terminal.
LEARN MORE