Sunni Reawakening in Iraq Hinges on National Guard
Terry Atlas and Zaid Sabah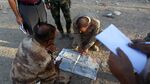 The U.S.-backed plan for an Iraqi National Guard to recruit and support Sunnis fighting Islamic State, a linchpin of President Barack Obama's strategy, faces an immediate political test and an uncertain outlook.
Pressed by the Obama administration, new Iraqi Prime Minister Haidar al-Abadi is scheduled to send parliament legislation tomorrow aimed in part at reprising the Sunni Awakening movement that fought al-Qaeda alongside the U.S. military in Anbar province a decade ago. Locally recruited guard forces would provide Sunni boots on the ground to combat extremists in provinces hostile to Iraq's Shiite-dominated military.
Parliament is the first of many hurdles for the plan, which has drawn a mixed reaction from Sunni leaders even as Islamic State expands its hold on Sunni communities, including in Anbar. A guard wouldn't be a quick fix to the current crisis because U.S. officials estimate it may take as long as a year to raise, vet and train forces.
"I question whether Iraq units, which are going to be fashioned out of a few tribal fighters here and a few formerly disgruntled soldiers, will quickly have the capacity" to conduct anti-insurgency activities, said Michael O'Hanlon, military analyst with the Brookings Institution in Washington.
A more controversial aspect has received little public debate in Iraq or the U.S.: Forming effective Sunni National Guard units would require deploying several thousand more American advisers, O'Hanlon said. Currently, about 1,600 U.S. troops are in Iraq or headed there for military coordination, intelligence, and security functions operating in Baghdad, the capital, and in Erbil in the Kurdish region.
Political Test
The debate in parliament will be a political test for Abadi, whose predecessor Nouri al-Maliki opposes the guard plan as weakening the central authority needed to keep Iraq from disintegrating. Kurdish officials may oppose the measure because they don't want to merge their Peshmerga militia into a National Guard, just as it's unclear whether Shiite leaders -- and their Iranian backers -- would yield control of their sectarian militias.
Guard units, while operating under the authority of provincial governors, would be paid and equipped by the central government and ultimately be accountable to the prime minister as Iraq's commander-in-chief. Abadi has hinted at concerns that Sunni units of a National Guard might become a rogue force for tribal leaders opposed to the central government.
"I cannot start any recruitment without the proper legal framework," Abadi said in an interview last month on the sidelines of the United Nations General Assembly in New York. "We don't want to end up forming another militia."
Abadi's Commitment
Abadi said the plan reflects his view of the need to devolve power to the provinces as a long-term solution to the tensions among Iraq's Shiites, Sunni Arabs and Sunni Kurds.
"I think he is personally committed to it," said Norman Ricklefs, president and chief executive officer of the Iraq Advisory Group, a consultancy based in Dubai that's advised the U.S. military and the Iraqi government. "I don't think it's just an American plan, but I think he wants to be careful in case it doesn't work out that he's got a bit of flexibility and can distance himself from it."
While governors of the main Sunni provinces have said they are prepared to raise thousands of men for a National Guard force, some Sunni tribal leaders are wary or oppose the plan. Sheikh Wasfi al-Asi, one of six Sunni tribal leaders who met in Baghdad recently with retired General John Allen, the U.S. special envoy, said the plan is vague and many issues remain to be resolved.
Tribal Differences
"Frankly speaking, the idea of the National Guard is not clear, only thoughts and ideas presented by Americans and the Iraqi government," al-Asi said in a phone interview. "There were some differences in points of views" between the Iraqi government and Americans.
Underlying his comments are tensions among tribal leaders and Sunni politicians. Al-Asi said he told Allen -- who was deputy commanding general of U.S. and allied forces in Anbar province from 2006 to 2008 -- that the "tribes are the real and important people on the ground, and that situation in Iraq won't improve without the support of these tribes."
Sorting out the Sunni leadership is tricky, said Kenneth Pollack, a foreign policy analyst at the Brookings Institution who has many contacts in Iraq.
Providing Incentive
"It's much harder these days to say who leads the Sunnis and who speaks for them," he said. "My friend John Allen has his work cut out figuring out" who to deal with among Sunni leaders.
The U.S. is pushing the National Guard idea to give the Sunni minority an incentive and a means to oppose extremists, as they did during the U.S.-financed Sunni Awakening against Islamic State's predecessor, al-Qaeda in Iraq. Remnants of the group fled to neighboring Syria, where it regenerated amid the civil war and broke with al-Qaeda in a quest to establish a fundamentalist caliphate.
The previous Sunni tribal force was largely brokered by the U.S. through often-rival local leaders who ran local militias, while Abadi's plan would operate through provincial governors. Sunni tribal leaders say they're distrustful of the Shiite-dominated central government's intentions and remember how the previous government walked away from commitments it made during the Awakening, including promises of permanent jobs for Sunni fighters.
Volunteers Named
Despite that history, some Sunni tribal leaders opposed to Islamic State said they've given U.S. and Iraqi officials the names of volunteers who could form the nucleus of a National Guard force.
"We have at least 5,000 professional fighters in Anbar ready to fight ISIL, but they need to be supervised," said Sheikh Faris al-Dulaimi, one of the leading tribal leaders in that province, using an acronym for Islamic State's former name. He said that the leaders want the reassurance of U.S. participation.
"Americans have to get involved directly," he said by phone. "We can't rely on the Iraqi government. The ISIL problem won't be solved without advisers on the ground to lead and instruct these tribal forces."
Unlike the ad hoc Sunni Awakening militias, this time the U.S. envisions a structured National Guard that wouldn't be fielded until members go through training.
'War Zone'
Retired U.S. Army Colonel Derek Harvey, an architect of the Sunni Awakening movement who's stayed in touch with some Sunni leaders, estimates that the U.S. would need to deploy 4,000 to 6,000 troops, including special operations advisers and a variety of support personnel.
"It's a war zone right now, and you can't just put an advisory team out there," said Harvey, who was an intelligence officer and adviser to the commander of U.S. forces in Iraq at the time, Army General David Petraeus. "They can't just drive on the road to Fallujah or Ramadi or Hit to talk to a tribal sheikh like we used to be able to do."
That would further strain Obama's pledge that "the American forces that have been deployed to Iraq do not and will not have a combat mission."
U.S. involvement in training the National Guard is "essential to signal to the Sunni Arabs that we're serious, and also to signal Abadi that we're in," said Harvey, now director of the Global Initiative on Civil Society and Conflict at the University of South Florida in Tampa.
'Great Concept'
"If you don't do this, then the concept is a great concept, but it's not resourced, organized or led in a way that can get the job done in the time that matters," he said.
In a best-case scenario, Sunnis might be able to build a National Guard unit in Anbar with 10,000 fighters in six months if they get arms and salaries from the central government and clear U.S. assistance, Harvey said in an interview.
Helping to assemble even a small force is more difficult than during the Awakening movement -- with its force of 120,000 fighters -- because the U.S. no longer has the military resources that were in place then. That makes the situation risky for U.S. advisers and Sunnis willing to fight the militants, Harvey said.
"In the past, we protected tribes," he said. "We put M1 tanks at the compound of a tribal leader in Ramadi, for example."
Before it's here, it's on the Bloomberg Terminal.
LEARN MORE